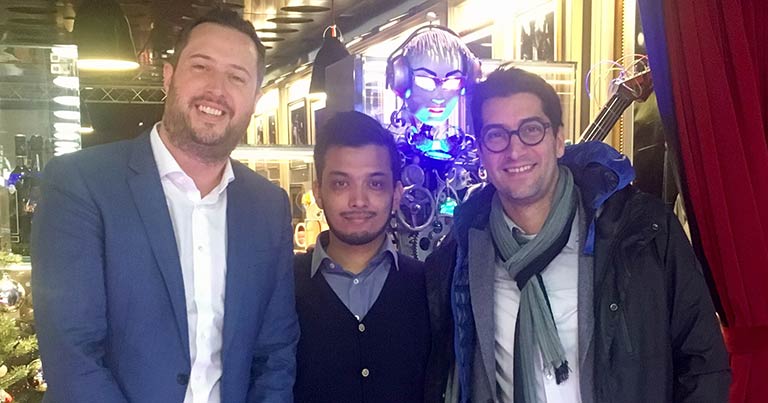 Geneva Airport has an impressive track record when it comes to trialling and adopting new and emerging technologies, and the innovation department has big plans in place for 2018.
In the past, the airport has been a leading implementation site for things like self-service processing, home-printed bag tags and even passenger-facing robots. Today, technological innovation remains at the centre of its strategy to improve the passenger experience and operational efficiency.
As Gilles Brentini, IT – Airport Innovation Manager, and Hamidul Huq, Innovation Project Manager, explained to FTE during a recent visit to Geneva, an artificial intelligence chatbot, which is currently in beta, will soon be launched on the Facebook Messenger platform. Brentini explained that the chatbot will help to bring the right information to passengers when they need it and can help to "bridge the gap between the airline experience and the airport experience" in the future.
Another project that the innovation department is focusing on is called GVA Welcome. Huq explained that the idea behind this is to "create a better experience between the people who arrive at the airport and the people who are waiting for them at the airport". Having already created a minimum viable product (MVP) in late-2017, they are now working on integrating it with the Geneva Airport app.
Brentini, Huq and their colleagues also have a keen interest in the startup scene and they are utilising their connections in Geneva to identify startups that can potentially support their innovation efforts. In fact, following last year's Recoding Aviation hackathon, Geneva Airport – alongside Copenhagen Airport, Swedavia and Schiphol – have been incubating two startups. "We are open to working with more (startups) and receiving more ideas," Brentini stated.
Creating business cases for blockchain and robots
Other technologies that are towards the top of their watch list are blockchain and robotics. Geneva Airport, in collaboration with British Airways, Heathrow Airport, Miami International Airport and SITA Lab, recently took part in the FlightChain research project, which explored if and how blockchain can help to create a "single source of truth".
When quizzed about the potential of blockchain technology, Brentini told FTE: "Blockchain is obviously very hot at the moment and in Geneva there are several initiatives to develop blockchain projects; there is real belief that it's going to bring value to the market. I've seen a few very interesting projects and I think the airport is a good candidate because there are multiple partners and blockchain is very interesting when you've got various partners working on the same subject, which also requires trust and confidence."
Referring to the FlightChain project, he described it as Geneva Airport's "first step into blockchain" and added: "It's a good initiative to put people together in the airport world. That's definitely something that we need to do more, and it's the best way to deliver more innovative use cases."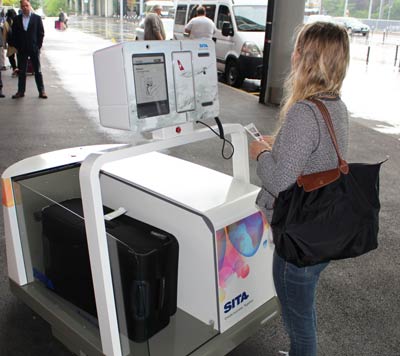 As for robotics, the innovation department is "still experimenting to find the right use cases", but Brentini and Huq see lots of potential. "Robbi" the autonomous information robot was trialled back in 2013 to guide passengers to points of interest such as services and shops. It inspired Sita's "Leo" the baggage robot that was trialled in 2016, while "KATE" the autonomous check-in kiosk is the latest robot to be spotted at Geneva Airport. The three robots have been using the same Swiss navigation technology.
While it is still relatively early days for robots in the airport environment, Brentini said he believes passengers are open to interacting with those that can offer value. "It's still pretty early to have robots in an environment like an airport but it's definitely going to move very fast and we want to be ready for that. That's why we're experimenting with these use cases," he said. Other potential use cases, he added, are using robots to deliver products to the gate and to support language translation.
The key to a more widespread rollout, though, is proving the financial business case. "It's a question of being able to spread the service with more than one robot," Brentini continued. "You have to maintain the robot and you have to find the right people to do it. As soon as you have 10 or 12 robots there is a good reason to have a team that can do that, but we need to get the price down in order to justify having more than one robot."
Wish list: E-tags, security advancements and mobile biometric enrolment
While Geneva Airport's innovation department is working hard to uncover fresh use cases for a variety of new technologies, they are also hoping that the wider industry can deliver improvements in some other areas.
For example, Brentini stated that he hopes to see a viable permanent electronic bag tag so the airport can move more of the check-in process offsite; he would like to see technology delivered that allows passengers to keep their laptops in their bags at the security checkpoint; and he is keen to see registration for biometric-enabled processing enabled on smartphones, so passengers can arrive at the airport already registered for their biometric token.
Rather than sitting back and waiting for these products to be delivered, Brentini, Huq and their colleagues will continue to innovate to establish how technology can improve the passenger experience and deliver operational benefits for Geneva Airport and all of its partners.