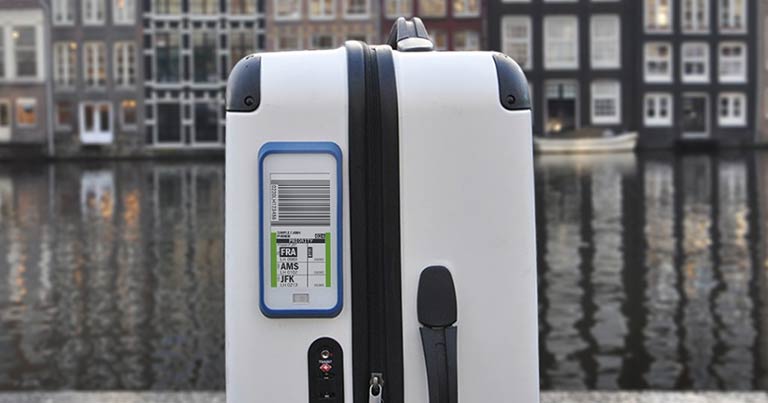 Lufthansa Group and BAGTAG have announced a partnership, which allows passengers flying with Lufthansa, SWISS and Austrian Airlines to use the re-usable, electronic bag tag instead of traditional paper tags.
The device, which can be attached to suitcases and bags using fastening screws and a mounting plate, has an e-paper display which shows all of the relevant flight information, just like a paper bag tag.
Users can check-in via the airline's Android app to receive their boarding pass and baggage label. Using a Bluetooth Low Energy (BLE) connection, the bag tag can then be transferred to the BAGTAG device. This allows passengers to proceed directly to bag drop upon arrival at the airport.
The data is safely transmitted thanks to the use of unique hardware encryption technology, and all relevant information is also stored on an embedded Radio Frequency Identification (RFID) chip. To ensure the device does not get damaged during the journey, the high-resolution e-paper display is shielded by an impact absorbing lens and the robust and weather resistant enclosure protects the BAGTAG during its journey.
"We are extremely proud to introduce a new device that will radically change the way people travel with their luggage", said Pieter Stor, CEO of BAGTAG. "With more than 4 billion thermal paper tags printed each year we intend to not only drastically improve the customer journey experience, but also reduce the harmful environmental impact that paper tags have."
Travellers can buy a BAGTAG device through the online Lufthansa WorldShop. It is priced at €89 or 24,000 miles for Miles & More members.
The adoption of BAGTAG is the latest example of Lufthansa Group embracing innovation in the baggage space, and comes almost two years after Lufthansa made the RIMOWA Electronic Tag available to passengers.