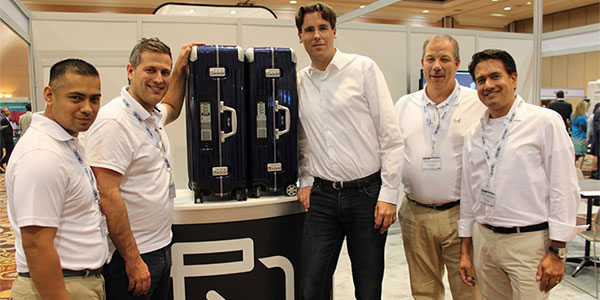 Six months after being announced as the launch partner for the RIMOWA Electronic Tag, Lufthansa has confirmed that the official launch will take place this month. In a release, the carrier revealed: "After successful tests with customers since fall of last year, launch will begin on March 14, 2016."
The RIMOWA Electronic Tag is the first fully integrated mobility solution for luggage, and Lufthansa says it "makes flying with luggage faster, more comfortable, and more secure". The suitcase features an embedded digital bag tag, which can be updated by passengers using the Lufthansa app. Using their digital boarding pass, passengers can submit data from their smartphone with just one tap, via Bluetooth, to their RIMOWA Electronic Tag. The e-ink digital display is then updated with exactly the same information that would appear on a paper bag tag, with the added benefit that it is protected from humidity, heat, cold, falls and jarring, and cannot be torn off.
Upon arrival at the airport, passengers using the RIMOWA Electronic Tag can simply place their bag on the conveyor at the Lufthansa Baggage Drop-off desk. As Dr. Björn Becker, Lufthansa's Director Product Management, Airport & Passenger Services, recently explained to FTE, this ties in with Lufthansa's strategy of introducing "touchless bag drop".
App-based baggage tracking
Lufthansa is also separately introducing enhanced baggage tracking capabilities. Passengers can now use a link on the mobile boarding pass in the Lufthansa app to track where their luggage is currently located. Upon arrival at the destination airport, the app informs the passenger which reclaim belt their luggage will be delivered to. From June onwards, passengers will also be notified of the exact time of delivery via the app.
This service will initially be available in Frankfurt, Munich, Stuttgart and Milan, and then gradually extended to other airports. If luggage has been misrouted, the passenger will receive a notification and a link to a pre-filled form, so they can arrange for their bag to be delivered to their home, hotel or office.
In addition, in keeping with Lufthansa's desire to offer customers as much choice as possible, passengers flying within the EU can now make use of home-printed bag tags, as part of a trial being undertaken with the European Commission. Passengers using this solution can print off their bag tags on an A4 sheet of paper, and then fold the paper and place it in a transparent sleeve, which attaches to the case.
With the baggage sector currently the subject of widespread innovation, Lufthansa is clearly determined to set the benchmark.