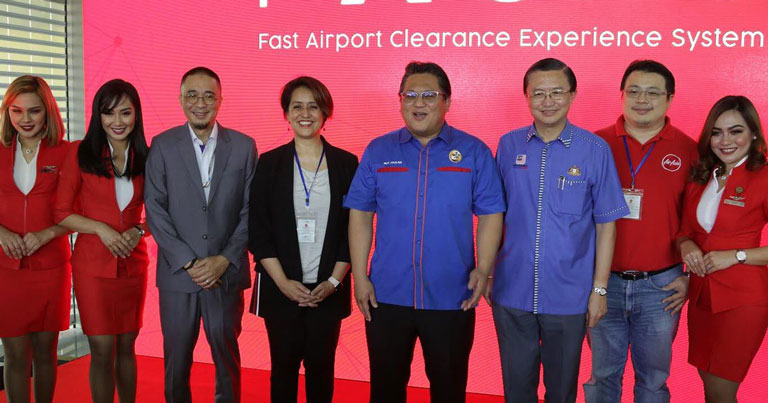 AirAsia has unveiled its Fast Airport Clearance Experience System (FACES) at Senai International Airport. The new system enables the carrier to provide a more seamless travel experience using biometric facial recognition technology.
Fully owned and operated by AirAsia, FACES uses facial recognition technology to identify travellers as they approach the automated boarding gate, allowing them to board their flight without having to present any travel documents.
Passengers who wish to use the FACES system must enrol at a dedicated enrolment kiosk located in the self-service check-in area. They simply have to place their MyKad (Malaysian ID) or chip-enabled passport in the document reader and look at the camera to create their biometric token.
The service is available to travellers aged 18 and above, and the enrolment is a one-time process, after which guests may use AirAsia's biometric gates for all flights as long as their identity document remains valid. Upon expiry of the identity document, guests will need to update the enrolment record with a new valid document. Enrolled passengers can also benefit from an expedited process at the security checkpoint.
Tony Fernandes, Group CEO of AirAsia and Co-Group CEO of AirAsia X, said: "Airports are typically the worst part of flying. FACES marks our latest effort to make the on-ground experience more seamless and less stressful by using cutting-edge biometric technology to authenticate guests. With FACES, your face is your passport, making it a breeze to clear the gate and board your flight.
"I want to thank Senai International Airport for once again supporting our efforts to improve the travel experience for our guests through digital innovation, as they did when they became the first airport in Malaysia to implement self-service baggage check-in."
He added: "We hope the success of FACES here will serve as an inspiration and we are keen to work with other airports in Malaysia to revolutionise the way people travel with this technology and make flying enjoyable again."