In 2017, the air transport industry experienced the revolutionary force of artificial intelligence (AI) as a means to drive the passenger experience forward. A number of leading airlines and airports launched AI-powered products, such as chatbots.
However, as the technology constantly evolves, it is fair to say that most companies are only scratching the surface of what AI can help them accomplish. Here, we take a look at the potential of AI as a tool to improve customer service and optimise efficiency.
Groupe ADP "ahead of passengers' needs and expectations"
Groupe ADP's latest investments truly show the company's commitment to achieving transformation in order to remain competitive.
As part of its "Connect 2020" strategic plan, Groupe ADP is displaying its capacity for innovation through a comprehensive and ambitious €16 million programme, named "Innovation Hub". The company leads some 15 experimentation programmes per year, dedicated to smart airport, new modes of transport, and robotics.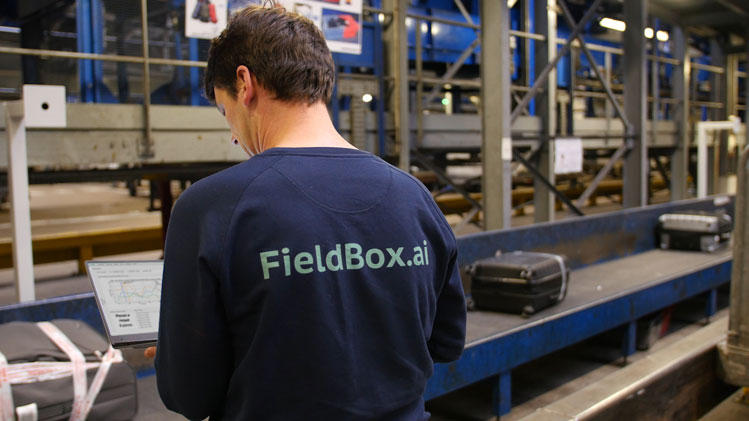 Among the projects being trialled across its airports is the customisation of passenger services using chatbot technology, and the use of big data and AI to optimise the operation of runways and industrial baggage sortation systems.
"In the field of smart airport, AI offers many opportunities to reinvent the passenger experience, from home to the airport," said Sébastien Couturier, Head of Innovation & Corporate Venture, Groupe ADP, which manages 26 airports around the world. "AI could be applied tomorrow to every layer of the operational infrastructure, as we see with the new trend in the smart building sector, in robotics, or in autonomous vehicle technologies. These are all topics in our experimentation programmes."
The company is currently in the process of testing AI chatbot technology as part of its plans to develop a digital assistant to customise travel information. "Thanks to artificial intelligence, we are able to customise services and develop a proactive approach through offering a service at the right time, which can be even ahead of passengers' needs and expectations."
Couturier continued: "We work with the startup Sensego, which has developed a predictive AI technology. It allows you to detect on average 10 days before the reservation that a customer is preparing for their next holiday. We can thus offer the customer a personalised offer, directly related to their needs."
Additionally, one of Groupe ADP's more complex pieces of operational equipment is the baggage sortation system. Working in collaboration with FieldBox.ai, a startup that focuses on industrial operations, data science and software engineering, has enabled the group to develop a load prediction solution and predictive maintenance capabilities. This uses luggage flow history and sorting operation information to understand how the system works and predict the number of pieces of luggage per hour up to seven days in advance, as well as monitoring equipment.
While its potential seems almost limitless, AI also brings about certain challenges that airlines and airports should bear in mind.
"Regarding the implementation of technology, scaling up is one of the biggest challenges airports are facing," said Couturier. "Currently, for Groupe ADP scaling up means deploying solutions through Parisian airports, but tomorrow it will be through the 26 airports we directly or indirectly manage around the world. To sum up, we have an incredible playground for startups, based on the diversity of the fields we work in."
Air New Zealand "building a world-class data platform"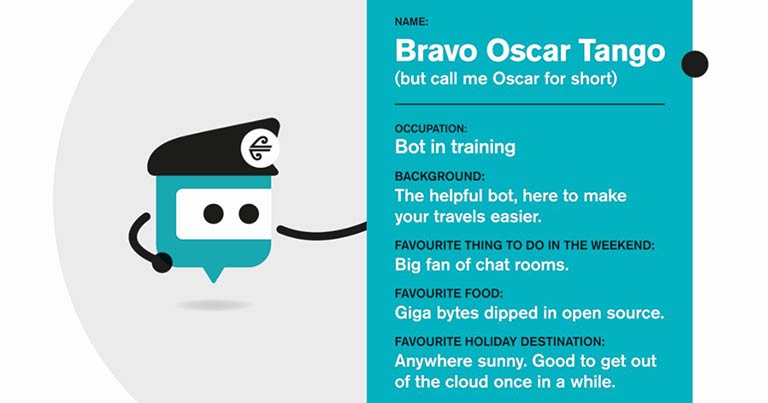 Industry-leading innovation is also apparent at Air New Zealand, which made its first foray into the field of AI last year, with the unveiling of its online chatbot, Oscar.
Initially, Oscar was launched as a beta product, allowing customers to play an active role in training him, and he has already provided a number of benefits in his first year.
"He is a real-time digital support channel for our customers, who can choose to talk to Oscar in order to get something done quickly related to their trip, or simply find the information they are looking for on our website or mobile app," explained Avi Golan, Chief Digital Officer, Air New Zealand. "We've found that customers who talk to Oscar are more engaged and are more likely to book a trip with us. Most importantly, Oscar provides a great way for us to interact directly with our customers and find out what their needs are."
Like most chatbots, Oscar uses natural language processing to analyse customers' requests, which provides an opportunity for airlines to identify trends and improve products and services. In addition to this, Oscar has jumpstarted Air New Zealand's journey into other AI and natural language channels such as Google Assistant and Amazon Alexa.
Indeed, the airline has been increasingly experimenting with AI and in addition to chatbots, it is also focusing on better leveraging data across its business. Golan commented: "AI is a component of a modern digital platform, and can be used in any place data is being gathered to help make decisions or better leverage that data."
"Air New Zealand is hard at work building a world-class data platform, which will see AI tools introduced to a number of business teams to further optimise performance. We are also creating AI-driven predictive models to further drive efficiency and personalisation for our customers and crew."
However, the carrier has identified several challenges as its looks towards the next generation of AI solutions. "Firstly, we have to look at the data itself. If the data is of poor quality, then there is little even the most advanced AI algorithms can do. This will continue to improve as airlines get even greater visibility into certain parts of the customer journey. Secondly, there is a lack of information out there about the potential of AI, which means a lot of opportunities for AI-based solutions can be overlooked."
Golan also emphasised the importance of managing error rates during conversations and building on AI accuracy to encourage customers to communicate with chatbots.
Looking ahead, he is feeling positive about what's to come. "What we are seeing is a virtuous cycle, where improvements in each of these areas are reinforcing each other, and I am very optimistic about the future of AI in both the airline industry and in New Zealand."
Aeromexico making smarter use of AI
Aeromexico is another example of an airline that has been increasingly experimenting with AI. With Mexicans being some of the most avid users of social chat platforms, such as Facebook Messenger, Aeromexico saw an opportunity to ease the traveller's journey and in 2016 launched Aerobot.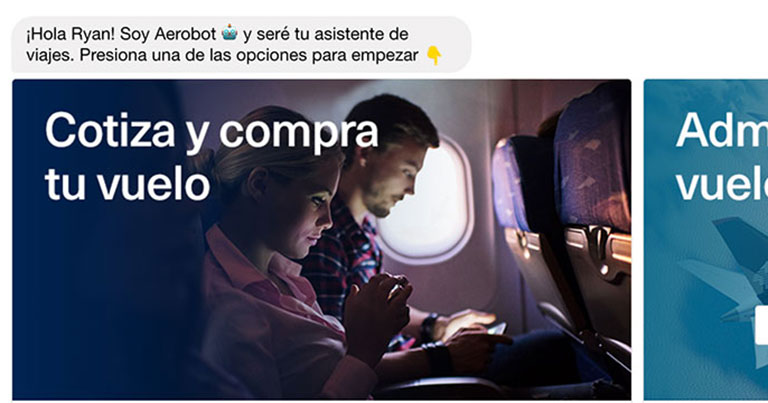 The AI-powered bot has been used by passengers for tasks such as buying tickets, checking flight statuses and finding destination-based recommendations. A new group booking feature was added last year to simplify the booking process for families and groups of travellers.
Brian Gross, Head of Digital Innovation at Aeromexico, told FTE: "Chat channels like WhatsApp and Facebook Messenger – whether the chat is with a human or a bot – are more comfortable and easier than the phone for resolving questions and customer service issues. You can ask your question, go off and do other things, and come back and pick up the conversation. If we are able to handle the issue automatically with a chatbot, that's a win for Aeromexico from a cost perspective.
"The conversation is continuous, which means on the same channel like Messenger we can have questions, sales, receipts, boarding passes, promotions and interesting content about destinations all in the same place. It's a holistic relationship instead of a bunch of separate emails," he explained.
While exploring the further benefits of AI, Aeromexico is still largely focusing on making its chatbot even smarter. Currently, Aeromexico's chat channels only link to its chatbot and to its customer service agents, however, the airline is already working on creating a link to its sales team and adding secure payments within the chat interface. "We also want to make our neural network (the brain of the chatbot) smarter," Gross said. "We just started plugging in the neural network to the front end that the human agents use. So, the brain will make it faster for them to answer common questions, while the human agents will make the neural network smarter about more complex issues."
He continued: "Finally, we are going to send a limited and carefully tailored amount of personalised promotions and interesting travel content via Messenger. This is a hit in China, which has been doing chat for years now, and we are learning a lot of use cases from China."
Aeromexico's innovation area, Lab7, also works closely with Delta's The Hangar innovation centre, which could potentially create even more opportunities for the airline. Gross also revealed to FTE that Aeromexico is working on a pilot project involving the use of facial recognition technology for entry into the airline's lounges.
"Airlines are by nature conservative, but there is increasing attention to innovation and new technology. I think Aeromexico is leading the pack due to this being one of the key differentiators of our airline in our market. Technology, progress and warmth are the three pillars of our brand," stated Gross.
Even though it has become evident that airports and airlines have only realised a small fraction of the potential of AI to date, one thing is certain: the air transport industry is showing great commitment to using technology to better serve passengers' needs.
While some companies are yet to discover the advantages of AI, others are already one step ahead. Artificial intelligence will undoubtedly be in the spotlight even more throughout 2018.