The past few months have seen rapid growth in the use of autonomous vehicles in the airport sector, with the likes of Rotterdam The Hague Airport, Gatwick, Groupe ADP and Heathrow trialling the technology in various operational areas, from baggage handling to cargo. FTE has been closely observing these developments and the potential this technology offers in the airport environment.
Improving baggage handling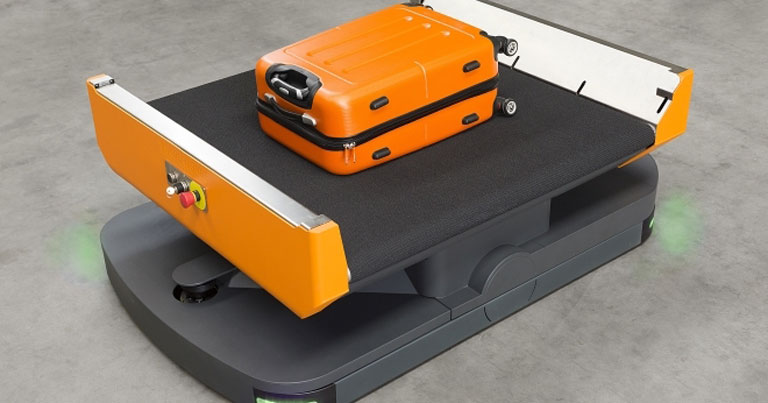 Just a few weeks ago Rotterdam The Hague Airport (RTHA) and Vanderlande commenced a joint innovation project to improve the baggage handling process at the airport by implementing FLEET – a baggage handling system (BHS) based on autonomous vehicle technology. Speaking to FTE, Carljin van der Wild, Coordinator Innovation at RTHA, explained the benefits of this new solution: "FLEET will expand and improve the baggage process at the airport by handling a large number of flights and passengers, improving ergonomic working conditions for the ground staff and future-proofing the baggage handling systems. In addition, FLEET is a flexible solution that seamlessly grows alongside an airport and matches its operations."
So how does it work? By utilising intelligent autonomous vehicle technology, FLEET replaces the need for fixed conveyors and sorting systems. Each individual vehicle within the fleet carries a single bag and determines the most optimal route through the airport. Thanks to its design, FLEET is both scalable and flexible, and changes are easy to make. FLEET is also resilient. If a unit fails to operate, only one bag is affected, and other vehicles can bypass it. This provides much-needed operational certainty in the ever-changing airport environment.
FLEET is expected to go live in September and will undoubtedly help RTHA connect to its strategy of "becoming an innovation hub", while on the other hand, the trial will enable Vanderlande to gain experience of FLEET in a live airport environment.
Van der Wild, who will speak in the "Future Airports & Baggage" conference track at FTE Europe 2018 (6-8 June, Dublin) added: "We position ourselves as an international testing ground for sustainable innovations for the aviation sector. FLEET is future-proof and fits perfectly in our strategy to become an innovation hub. RTHA, and its handling company AviaPartner, offers Vanderlande with this joint innovation project the opportunity to gain experience with their fleet within an operational airport environment. The joint ambition for a successful completion will help us to realise our future strategy plans." Moreover, FLEET brings sustainability to the next level as it uses 50% less energy.
"An Uber-like service" on the airfield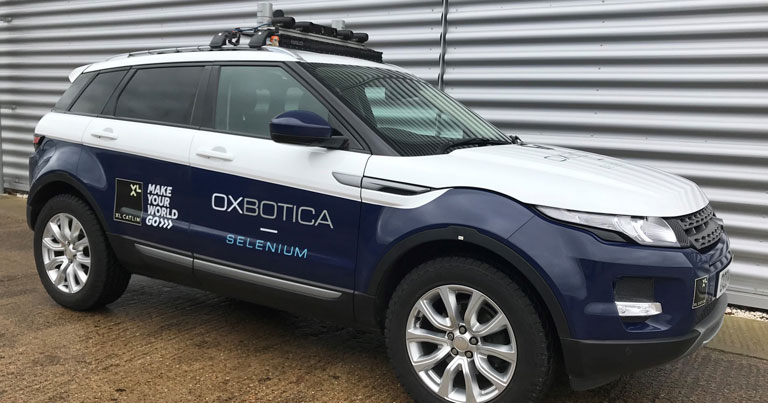 Gatwick is another example of an airport that is currently experimenting with autonomous vehicles. In March, the airport announced that it is launching a trial of electric-powered autonomous vehicles to shuttle its employees between various locations on the airfield. If successful and scaled up, the trial could lead to airfield transport needs being met from a much smaller pool of autonomous vehicles, reducing the need for such large vehicle fleets, reducing emissions and saving on costs.
The trial will be run in partnership with Oxbotica – a company that develops software that enables vehicles to run autonomously without reliance on GPS or any other technology outside the vehicle.
In a recent statement released by the airport, Gatwick Airport's Chief Information Officer, Cathal Corcoran, said: "If this trial proves successful then in the future we could have an Uber-like service operating across the airfield which staff can hail as and when they need to travel.
"This trial is just the start and much more research will be needed, but ultimately this could be the beginning of the widespread use of autonomous vehicles on airfields across the world. The new technology is a more efficient way to manage vehicles and could lead to a reduction in the number of vehicles required, emissions and associated costs."
"A lever for optimising infrastructures"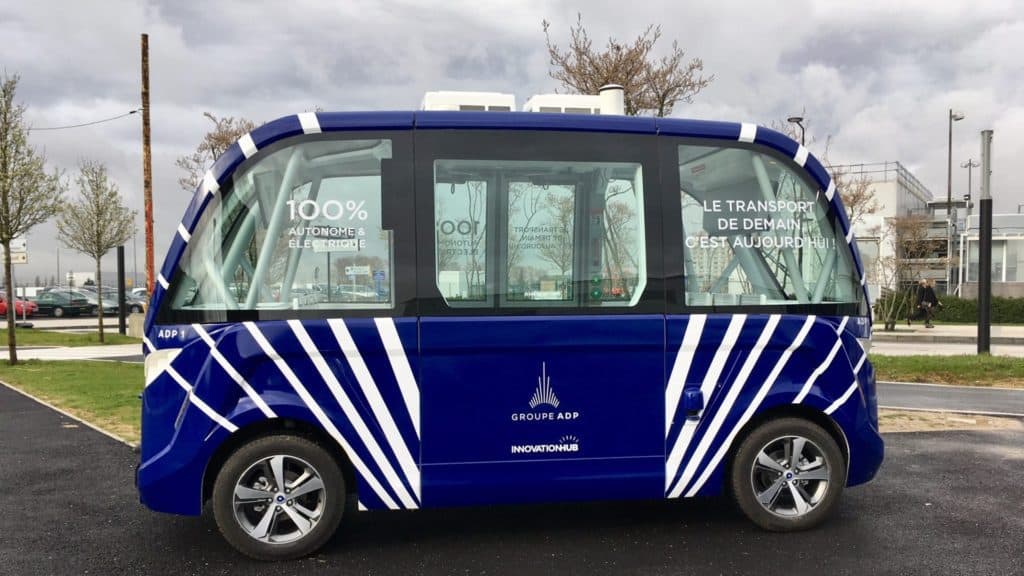 Earlier in April, Groupe ADP also marked an important milestone in its strategy to become a key player in the autonomous vehicle ecosystem, joining forces with French transport group Keolis and Navya, the French autonomous shuttle designer. The pilot project will be carried out until July 2018.
The company has launched a trial of two fully electric driverless shuttles operating in Charles de Gaulle Airport's commercial and real estate district Roissypôle, with the aim to test how the automated vehicles will behave on a high-traffic roadway. An intelligent road infrastructure that uses traffic signals to communicate with the shuttles has been set up in order to optimise road safety.
This initial step will allow Groupe ADP to subsequently roll out this technology on other sites and with other applications, within a multifaceted area like the airport city.
"Autonomous transport services will play a key role in our aim to create a new generation of connected airports," explains Edward Arkwright, Deputy CEO of Groupe ADP. "In these constrained environments, autonomous technology is a lever for optimising infrastructures for of a new mobility offer."
He continued: "Our airport's mobility needs are quite considerable – between the various terminals, between car parks and departure areas, or even airside – and could lead us to develop an autonomous vehicle fleet in the future. Within the framework of our Innovation Hub programme, the future of mobility is being built in the heart of the airport city."
CargoPod at Heathrow Airport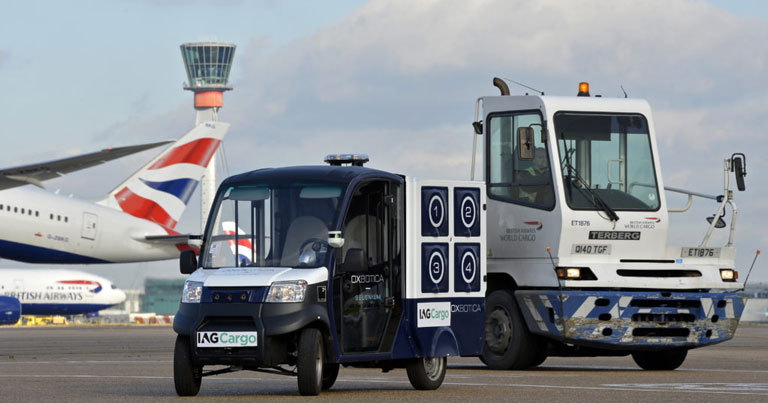 Heathrow Airport also recently hosted a trial of autonomous vehicles as part of an ongoing investment into future technologies. In partnership with IAG Cargo and Oxbotica, the trial was designed to help the carrier understand how autonomous vehicles could work in an airside environment.
The "CargoPod" vehicle spent three-and-a-half weeks running autonomously along a cargo route around the airside perimeter. The trial collected over 200km of data that will enable IAG Cargo and Heathrow to assess potential opportunities for the use of autonomous vehicles in airport environments of the future.
Dr Graeme Smith, CEO of Oxbotica, commented that: "While there were a huge number of variables to consider including transitioning from indoors to outdoors during each journey, our vision-based localisation system performed exceptionally."
Indeed, if these trials prove successful in an airfield environment, these projects may become the precursors to a wide range of other autonomous vehicles being used around airports.
The FTE Tech Download Think Tank, which will be unveiled at FTE Europe 2018 (6-8 June, Dublin) will include a focus on the future role of autonomous vehicles in the airport environment. The Think Tank team includes senior figures from Google, Gatwick Airport, Changi Airport Group, WOW air and Alaska Airlines.