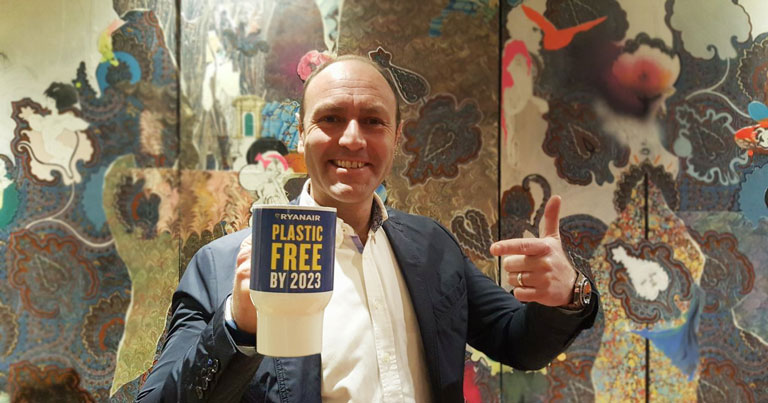 In recent times, Ryanair has launched a raft of initiatives, including Ryanair Rooms, Ryanair Holidays and Ryanair Transfers, all of which complement the ongoing "Always Getting Better" (AGB) customer experience programme. Ahead of his keynote address at the co-located FTE Europe & FTE Ancillary, 6-8 June, Dublin, Kenny Jacobs, Chief Marketing Officer, shares with FTE the airline's very latest plans and his vision for the future.
"27% of revenue comes from ancillaries"
Kenny Jacobs was appointed Chief Marketing Officer of Ryanair in February 2014. He joined from Moneysupermarket PLC where he held the same title. He has predominantly worked in retail, having been Marketing Director for Tesco Ireland and Brand Director for Tesco UK, as well as previously having worked in several marketing roles across Europe and Asia for German-based retailer, Metro Group.
Jacob's previous experience in retail is suitable for the airline's low-cost model, which is highly dependent on ancillary revenue. He explains: "As a low-cost airline, approximately 27% of our revenue comes from ancillaries and we're using our improved platforms and MyRyanair to further increase revenue."
Among some of Ryanair's biggest achievements since stating its ambitions to become the 'Amazon of Travel' are Ryanair Rooms, Ryanair Hotels and Travel Credits, Ryanair Car Hire, its new website and 'MyRyanair' customer registration system which already has 41 million accounts.
Jacobs explains: "In FY17, ancillary revenue grew by 13% to €1.8bn, and accounted for 27% of total revenues. We have raised our medium-term guidance for ancillary sales to 30% of total revenues by March 2020, so we are well on track to achieve this target which will be delivered through ancillary services such as Ryanair Hotels and Travel Credits, Ryanair Car Hire and Ryanair Transfers."
A highlight has also been the airline's partnership with Air Europa, which allows Ryanair's customers to book Air Europa long-haul flights. "We're pleased with the performance of our Air Europa partnership, which was recently extended to allow Ryanair's 138 million customers to browse and book Air Europa connecting flights from 15 European cities to Madrid and onward to 16 countries in North, Central and South America, including Argentina, Brazil, Cuba, Mexico and the United States – all on the Ryanair.com website," says Jacobs.
The airline is, in fact, continuing its discussions with a number of other long-haul airlines on potential fees and connecting flight partnerships.
Year 5 of the "Always Getting Better Programme"
This year, Ryanair unveiled Year 5 of the "Always Getting Better Programme" which will focus on environmental, service, digital and ancillary developments.
The airline is also showing strong commitment to reducing its environmental impact by introducing various initiatives to eliminate all non-recyclable plastics from its operations over the next five years. For customers on board, this will mean initiatives such as a switch to wooden cutlery, bio-degradable coffee cups, and the removal of plastics from the range of inflight products. The carrier will also introduce a scheme to allow customers to offset the carbon cost of their flight through a voluntary climate charity donation online.
"Aligning technology with commercial viability"
FTE was also curious to know more about what's on the airline's technology agenda for this year. Plans are already underway to integrate artificial intelligence (AI) and the practical implementation of a bot answering emails, as well as upgrading Ryanair's website to build a mobile app using Angular 5 framework. One of the biggest challenges as highlighted by Jacobs, however, would be to "align technology with commercial viability".
When quizzed on whether the carrier will be following the steps of other low-cost airlines of the likes of easyJet, to offer wireless IFE (inflight entertainment) on board selected flights, Jacobs said: "We have no current plans to offer WiFi onboard as the technology is too expensive, and we don't have demand from our customers given the short-haul nature of our flights. Our customers are, however, free to use their portable electronic devices for the duration of their journey."
Looking ahead, he concluded: "We're focused on Ryanair becoming a one-stop shop for all travel needs and relentlessly improving the customer experience through technology. In the near term this includes further developing "Try Somewhere New", our travel content platform and connecting flights."
And while the airline continues to innovate, it has made a promise to its customers that it will always maintain its low-fares.