Biometrics technology can play a key role in helping to enhance the passenger experience by facilitating simple, hassle-free processing, while also strengthening security. In the past few years, airports and airlines, government agencies and technology vendors have been investing more and more in the technology. Ahead of Future Travel Experience Global 2018, which will include a conference session dedicated to biometrics technology, FTE spoke to a number of the key protagonists who will be joining us at the event from Miami International Airport, British Airways (BA), U.S. Customs & Border Protection (CBP) and Gemalto to explore the advantages and challenges relating to this technology.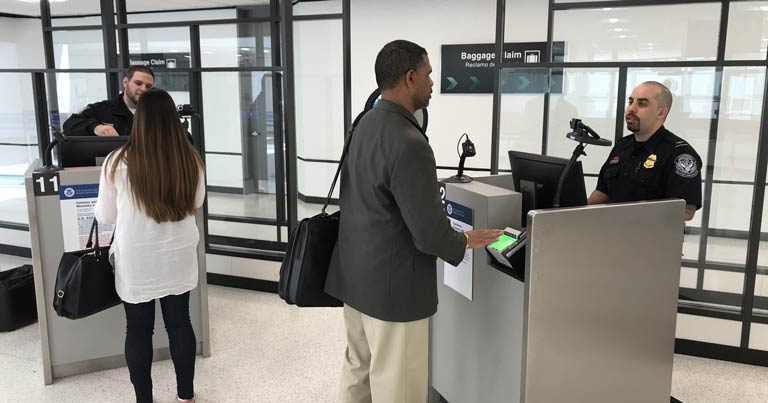 Miami International is one such airport that already has a strong track record of using biometrics. In November last year, the airport opened its newly renovated Concourse E federal inspection facility for international arrivals. The facility is the first in the US completely dedicated to providing expedited passport screening via facial recognition and is already showing positive results.
Maurice Jenkins, Director Information Systems and Telecommunications, Miami International Airport, explains: "Since launching the facial recognition pilot programme in November, the Concourse E facility has been screening as many as 10 passengers per minute. We have incrementally added flights since the programme began, and are now processing daily flights by six different airlines."
The facility uses a new technology solution, developed by U.S. Customs and Border Protection (CBP), which verifies the traveller's identity by matching a traveller to the document they are presenting. In addition to providing the latest in expedited passport screening technology, the new facility also reduces the walking distance for Concourse E and F passengers who previously only had access to the Concourse D passport hall – decongesting the arrivals area in the process as well.
According to SITA, 63% of airports and 43% of airlines plan biometric ID management investment by 2020 and for those who are just taking their first steps into exploring the technology, Jenkins advises that "encouraging a strong collaboration with stakeholders in the airport ecosystem" is essential. He adds: "Also, effectively plan and design POCs (proof of concepts) to best measure effectiveness and manage costs."
British Airways' £4.5bn innovation programme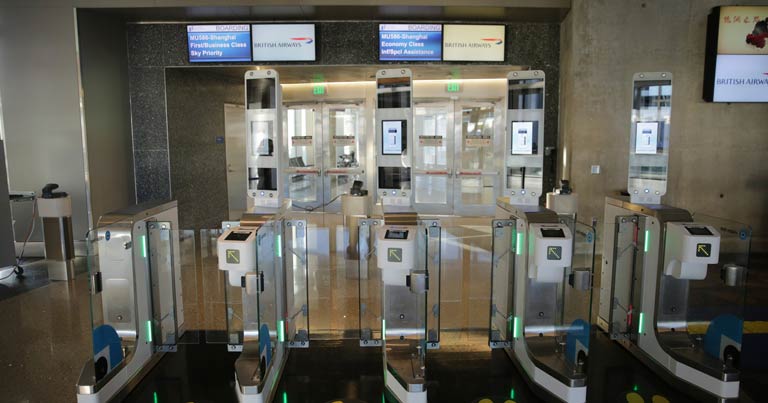 Meanwhile, British Airways was one of the first airlines to trial self-service biometric boarding gates on international flights out of the US.
As part of the airline's £4.5 billion investment programme focused on innovation and new technology, BA launched a trial at Los Angeles International Airport (using Vision-Box's biometric e-gates) last December to improve the boarding process and significantly reduce the amount of time it takes to board an aircraft.
Moreover, earlier this year, BA launched another joint initiative with Greater Orlando Aviation Authority (GOAA) and CBP to implement SITA's biometric technology on flights between Orlando and London Gatwick airports, which is showing positive results. "British Airways is committed to exploring new and innovative ways to improve the customer experience," says Raoul Cooper, Digital Airport Design Manager, British Airways.
"Technology plays an important part in this and through the Orlando trials we discovered exactly how this sort of technology helps our customers, and the operation too. We saw that customers really appreciate and value a simple, quick and hassle-free boarding experience. Biometric boarding means they don't have to present their boarding pass or passport at the departure gate, which leads to less time queuing to get on board. This technology enables us to board flights of almost 240 customers in around ten minutes – that's such an achievement and half the time it takes using the traditional boarding method."
BA is now looking ahead to improving the passenger experience at John F. Kennedy International Airport Terminal 7 using the same technology. "Our intention has always been to trial different camera and gate technologies, to understand what will provide the greatest benefit for customers and colleagues. As we now look ahead to improving the JFK Terminal 7 experience, all these learnings are helping us build the best solution for our customers travelling through New York," he shares.
Cooper also revealed that BA is working with CBP on a white paper focusing on biometrics, which will be released soon. "We encourage all parties to read this and raise questions or challenge accordingly. It has the potential to really change the industry and so we need to air the contentious areas as well as embrace the clear benefits."
Solving the security challenge by focusing on the passenger experience
The use of biometrics is growing steadily around the world, and U.S. CBP has an active role in supporting the industry in understanding and implementing the technology. Colleen Manaher, Executive Director, Planning, Program Analysis and Evaluation, Office of Field Operations, U.S. CBP, explains: "CBP meets regularly with airlines, airports and air travel industry associations while also participating in the key aviation events each year like the FTE Global event in Las Vegas to inform this key audience about the biometric exit mandate and partnership opportunities with CBP."
Traditionally, CBP's technology systems were based on reading the passenger's passport. Through testing and stakeholder collaboration, however, CBP realised that once travellers have checked in with the airline, a camera could be used at the gate to quickly verify that the same person boards the plane.
Manaher adds: "As part of CBP's vision, we built the infrastructure that our airline and airport stakeholders can plug into wherever an identity check is needed, so they can offer additional benefits to their customers. Biometrics are the transformative agent to revolutionising air travel today. Ultimately, CBP's goal is to make travel easy for those who are compliant but very difficult for those trying to break the law. If each airline and airport tried to build their own systems, it could make travel incredibly complex for everyone."
Currently, CBP and TSA are working closely together on biometrics efforts and will deploy a pilot at Los Angeles International Airport in August 2018, to test facial biometrics at the security checkpoint.
While the technology has the ability to secure and streamline travel and enhance the overall passenger experience, some have raised privacy concerns surrounding facial recognition. CBP is committed to its privacy obligations and has already taken several steps to safeguard the privacy of travellers. Manaher comments: "CBP is solving this very challenging security mandate by focusing on the traveller experience. For example, we have published several Privacy Impact Assessments, employed strong technical security safeguards, and have limited the amount of personally identifiable information used in the transaction. In addition, CBP works with the DHS Data Privacy Integrity Advisory Committee (DPIAC) and has met with several privacy groups to get their input about the implementation of the biometric Entry/Exit programme."
Neville Pattinson, Senior Vice President of Federal Government Sales for Gemalto, which will be among the exhibitors at FTE Global, also comments: "Air travel security absolutely cannot be compromised, which makes a reliable, fast and secure identity verification system central to passenger experience improvements." Gemalto's latest innovation, which is based on its Live Face Identification System (LFIS), has the potential to successfully tackle this challenge. The company recently took part in the U.S. Department of Homeland Security 2018 Biometric Rally where Gemalto's solution proved its worth, recording a 99.44% successful acquisition rate in less than five seconds, compared to the average of 65%.
"As we saw at the rally, this technology speeds up the travel experience, resulting in added convenience," Pattinson explains. "That remarkably consistent efficiency could save travellers time and stress getting through airports, and could provide a boost to airports' business by giving travellers more of an opportunity to enjoy restaurants, duty free stores or other amenities."
Transformational potential of biometrics
While biometrics technology has reached a point where it can transform travel experiences, the change management aspect – from both passenger and process standpoints – will take some time, as will the creation of further collaborations between the various parties involved. Airports, airlines, government agencies, technology vendors and consumers must reach consensus on how to responsibly deploy biometrics, if the benefits of speedy, dependable and secure biometrics are to be fully realised by all.
In the meantime, here at FTE we will continue to bring industry leaders together and provoke meaningful discussions on key topics such as biometrics and secure passenger processing. In fact, the 'On the Ground' Conference at FTE Global 2018 (10-12 September, Las Vegas) will include an entire session dedicated to "Implementing advanced passenger processing with automation and biometrics". Among the high-level speakers confirmed to participate in this session are Raoul Cooper, Digital Airport Design Manager, British Airways; Maurice Jenkins, Director Information Systems and Telecommunications, Miami International Airport; Simon Wilcox, Automation of the Passenger Journey Programme Lead, Heathrow Airport; Colleen Manaher, Executive Director, Planning, Program Analysis and Evaluation, OFO, U.S. CBP; Justin Erbacci, Chief Innovation and Technology Officer, Los Angeles World Airports; Dr. Bjoern Becker, Senior Director Product Management Ground & Digital Services, Lufthansa Group; Mara Winn, Lead Program Manager, Innovation Task Force, TSA; and Larry Panetta, Direct of Air Exit Implementation, U.S. CBP.
There will also be a "Jump Seat Debate" on the "Future of biometrics in travel" moderated by British Airways, plus dedicated briefing sessions from both U.S. CBP and TSA. Meanwhile, the leading suppliers of biometric technologies will also be present in the FTE Global exhibition. You can view the full agenda here. Early bird registration pricing expires on July 20.