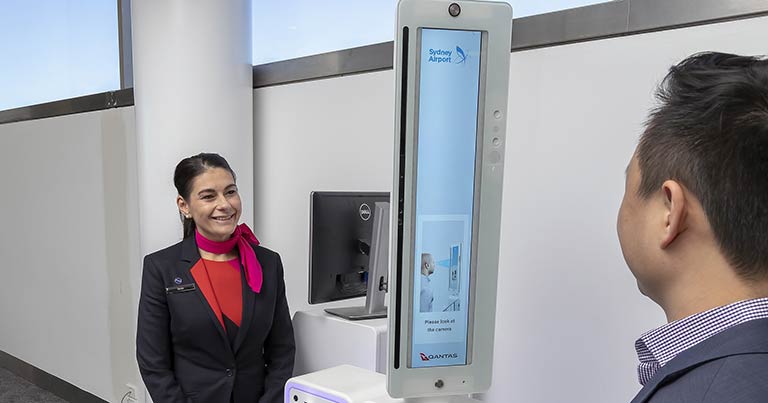 Some passengers flying from Sydney Airport are now using biometrics technology with facial recognition processing, allowing them to undergo a more seamless airport experience. Qantas passengers on select international flights will participate with the airline, which is the launch partner for the trial.
The biometrics system, when fully tested, will mean passengers will be able to complete most stages of their airport journey using their face as their access identification. The initial phase of the trial will test four key steps in the passenger journey including automated check-in, bag drop, lounge access and boarding. Additional steps proposed for future trials include mobile check-in and automated border processing.
Sydney Airport CEO Geoff Culbert claimed the trial is the most extensive biometrics trial to date and is part of a broader focus on investing in technology to make the airport experience easier and more convenient for passengers.
"We're very excited that select Qantas passengers now have the chance to experience this highly sophisticated technology as part of this landmark trial," he said. "We've worked with Qantas from the outset and are delighted to be partnering with them as we trial this technology.
"In the future, there will be no more juggling passports and bags at check-in and digging through pockets or smartphones to show your boarding pass – your face will be your passport and your boarding pass at every step of the process."
Qantas Chief Customer Officer Vanessa Hudson said the airline was focused on increasing the use of technology to drive innovation for customers. "One of our core commitments at Qantas is to make travel as attractive, convenient and enjoyable as possible," she stated. "There is an increasing need for airlines and airports to offer faster and more convenient airport experiences and we're excited to see what results the trial produces.
"Qantas customers will not only be able to check in for their flight using the technology, it is also available for our lounge staff who can create a more personalised experience when passengers arrive."
Consent is actively sought from all passengers participating in the trial, which adheres to the strictest privacy standards and complies with all relevant legislation. The Australian Government's border processing procedures will remain unchanged and travellers will still be required to undergo the current border processes.