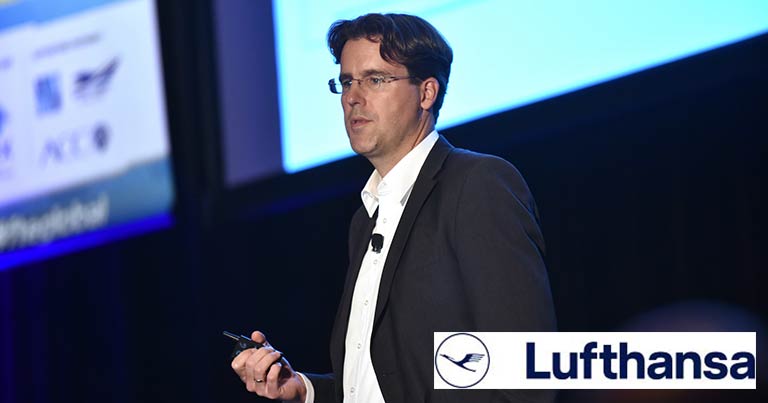 The very nature of the air transport industry means some level of disruption is inevitable. While a variety of factors – ranging from extreme weather conditions to security alerts – means disruption cannot be entirely eliminated, plans can be put in place to manage it and ensure that the impact on the passenger experience is minimised. To this point, Lufthansa is taking a number of steps.
Dr. Björn Becker, Senior Director Product Management, Ground & Digital Services, Lufthansa Group, who will speak in the conference at Future Travel Experience Global 2018 (10-12 September, Las Vegas), says that taking care of customers professionally and with empathy is of vital importance, particularly when disruption strikes. "Excellence in service recovery is from my perspective one of the major success factors and differentiators, especially in a service industry like ours," he says. "Our aim must be to never leave our guests alone – independent of whether there is a major irregularity like snow or thunderstorms, or just a delay with one aircraft and one guest not making his or her connection. For this one guest, it is irrelevant whether 10,000 others are also affected or not."
Three-step solution
Becker explains that Lufthansa has developed a three-step approach to take care of passengers in every irregular operations situation:
Information and advice for the next step – "This is all about empathy and creating transparency of the situation and, as concretely as possible, telling our guest what to do." This may start by offering them a coffee while they wait as the airline is working on a solution and advising them on what will happen next.
Create a solution and inform the customer about this as well as his or her options (accept or modify), plus next steps.
Modify the solution (if necessary) with self-service or assisted services, and get ready to fly.
"Our service innovations that we are developing, or have already developed, are supporting all three steps," he states.
Facebook Messenger chatbot and re-booking tools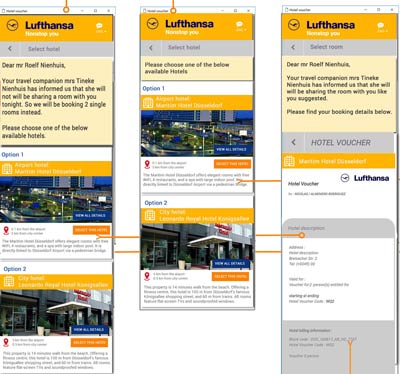 There are plenty of examples of this strategy in action. For instance, a chatbot has been developed and is about to go live for Facebook Messenger. The motivation is to use the reach and relevance of Messenger to inform passengers and empower them with self-service. Passengers can keep themselves updated about their flight status and any re-bookings (steps 1 and 2), and have the option to re-book themselves and get their new boarding pass (step 3).
A powerful automatic re-accommodation tool is also being used to re-book passengers in cases of disruption, while a hotel self-service tool will go live later this year. Instead of standing in line at a counter, any passenger whose journey has been disrupted and needs an unplanned overnight stay will receive a link from the airline – via an SMS or email, and in the future also via the chatbot – to book their accommodation free of charge from a choice of contracted hotels.
Meanwhile, passengers whose luggage has been misrouted can already create their Property Irregularity Report (PIR) using their mobile device or at a self-service kiosk in the baggage reclaim area at hub airports. Also, the airline group is working on digital food & beverage vouchers, which will allow passengers to simply go to any café in the airport for a complimentary beverage. This service is already available for Swiss passengers in Zurich and will be extended to the other Lufthansa Group hubs in Vienna, Munich and Frankfurt.
Managing disruption in-flight
Not content with limiting this support to the airport environment, Lufthansa is also bringing self-service disruption management to the skies. Passengers will be able to use the Lufthansa app onboard and will also be able to use the chatbot in-flight via the onboard Wi-Fi on all flights. This service will be introduced and rolled out during the coming weeks.
"In the future, this will also be true for our Delayed Bag Service where you can then also order your shirt or whatever you need if your bag has been misrouted, and pick it up at the arrival airport," Becker says. "Also, the flight attendants will get all the information about their guests' situation. For instance, is the connection endangered? Has recovery been organised, such as a ramp direct service? Has the guest been re-booked? All of this will be done via their in-flight iPads."
Next on the list is to make it easier for passengers to claim any compensation they are due in cases of disruption. "One hassle in major irregular operations is that it is a lengthy process to get your compensation. We will come up with a self-service tool and some background plausibility check intelligence that enables you to instantly get your compensation."
Dr. Björn Becker, Senior Director Product Management, Ground & Digital Services, Lufthansa Group, will address delegates at Future Travel Experience Global 2018, 10-12 September, Las Vegas. He will deliver a joint presentation with Justin Erbacci, Chief Innovation and Technology Officer, Los Angeles World Airports, and senior figures from the TSA and U.S. CBP to share lessons learned and recommendations from the rollout of a number of biometric-led initiatives. Find out more here >>