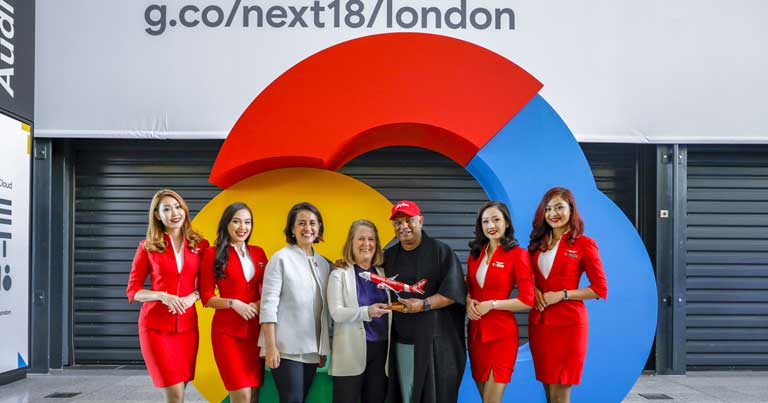 AirAsia has launched a new partnership with Google Cloud to integrate machine learning (ML) and artificial intelligence (AI) into every aspect of its business and culture as part of its ongoing "transformation into a travel technology company".
AirAsia Group CEO Tony Fernandes said: "AirAsia has been at the forefront of adopting new digital technologies since our inception in 2001. We are now in our next phase of development where we are expanding beyond air transport and digitalising our operations and processes to become more efficient.
"Google Cloud enables us to make full use of the data we own, opening up new opportunities and enabling us to build new businesses. We are building two big platforms: airasia.com, which will be our one-stop digital travel platform where our customers can book their travel needs from flights, accommodation, tours, ground transport to entertainment; and BigLife, our lifestyle site which will be like Kayak, Tripadvisor, Groupon and eBay rolled into one.
"BigLife will incorporate all the digital investments under our digital arm RedBeat Ventures, such as our money app BigPay, our inflight connectivity platform ROKKI, our online marketplace Ourshop, and our logistics services RedBox and RedCargo. Both platforms will help drive much more business into AirAsia with the help of data."
AirAsia will work with Google Cloud to solve high-impact business challenges, including:
Drive better demand forecasting and more targeted marketing;
Improve customer experience and loyalty by providing a more personalised experience for its customers;
Maximise operational efficiency and reduce risk through predictive maintenance, real-time weather forecasting and crew optimisation.
AirAsia will work with Google Cloud engineers to allow the airline's technical teams to solve specific business scenarios while gaining a solid foundation in AI with Google Cloud's state-of-the-art TensorFlow and Cloud Machine Learning Engine. AirAsia will be able to enrol its technical teams in the same programme Google Cloud uses to train its own engineers, allowing the airline to build on its own internal machine learning expertise.
AirAsia will also work closely with Google Cloud to digitalise and transform its way of work and culture by deploying G Suite and Chrome Enterprise to create an agile digital experience that will provide access to data and analysis when and where they are needed for faster, more informed decision-making.