During the past 12 months, it has become clearer than ever before that biometrics technology will be at the heart of the airport of tomorrow. A number of international airports, including the likes of Changi Airport, Kempegowda International Airport, Bengaluru and Hong Kong International Airport, have emerged as front-runners in Asia, with all three committing to major biometrics-related projects that will play a crucial role in shaping the passenger experience for years to come.
BLR Airport's end-to-end biometrics vision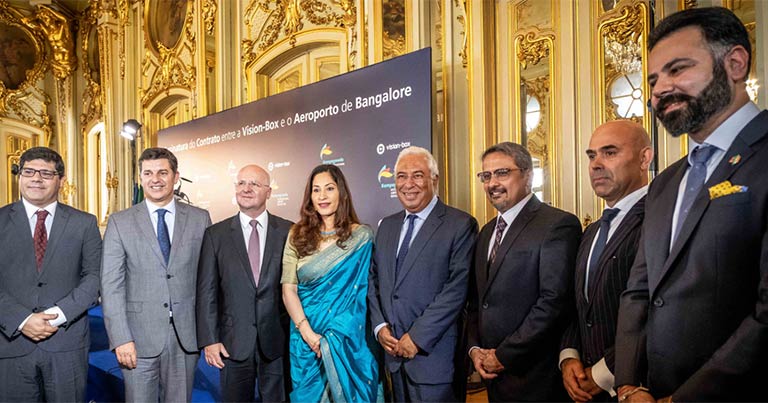 Kempegowda International Airport, Bengaluru (BLR) has high ambitions when it comes to the deployment of biometrics technology. Just last month it was announced that Bangalore International Airport Limited (BIAL) – the operator of BLR Airport – has signed an agreement with Vision-Box to introduce paperless biometric self-boarding technology.
The overall goal of the project is to create a paperless, biometric-enabled passenger journey from registration to boarding. Facial recognition technology will identify passengers as they move through the different airport touch points, removing the need to present boarding passes, travel documents or passports at every stage.
"Your face is your boarding pass," stated BIAL Managing Director & CEO, Hari Marar. "BLR Airport will continue to lead from the front in transforming air travel in India by leveraging on technology. We will continue to offer more delightful experiences to all our passengers as they travel through BLR Airport. Vision-Box's state-of-the-art biometric technology combined with its passenger flow platform will enable a seamless journey for our passengers, without obstacles, waiting lines or hassles, from registration to boarding."
At the upcoming Future Travel Experience Asia EXPO 2018 (13-14 November, Singapore), Satyaki Raghunath, Chief Strategy & Development Officer at Kempegowda International Airport, Bengaluru, will speak in the Premium Conference. He will deliver a presentation entitled "How BLR Airport will deliver the largest full deployment of end-to-end biometric solutions at an Asian airport". Vision-Box will also be showcasing its latest products and services in the free to attend exhibition.
HKIA starts roll out of new biometric-enabled e-Security Gates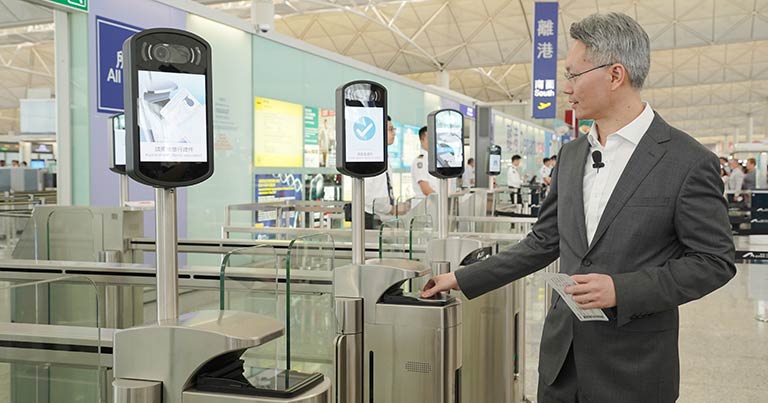 Biometrics technology is also in use at Hong Kong International Airport (HKIA), which officially launched its new e-Security Gates on 20 September 2018 to verify the documents of departing passengers before they enter the restricted area. The biometric-enabled e-Security Gates represent the latest smart initiative launched by Airport Authority Hong Kong to enhance the overall passenger experience.
Four e-Security Gates have been installed at the South Departure Hall at Terminal 1 in the first phase, with more to be introduced in stages. By the first quarter of 2019, 44 e-Security Gates will be installed. The target is to achieve near-zero queuing time for passengers.
Airport security staff currently carry out the travel document checking process manually to ensure that passengers' identities match the information on their boarding passes. This manual procedure will be now be conducted by the document reading devices and cameras embedded in the e-Security Gates, enabling passengers to scan their documents and boarding passes for verification by facial recognition technology.
Chris Au Young, General Manager, Smart Airport at Airport Authority Hong Kong, said: "This new smart initiative will speed up and enhance the accuracy of the document checking process. It also marks the first step in our efforts to streamline passenger boarding at HKIA by using biometrics. In the near future, HKIA will extend the use of biometrics and facial recognition to check-in and boarding procedures with the aim of using passengers' faces for identity verification throughout their departure journey at HKIA, providing a seamless experience for travellers."
Changi Airport T4 – a global reference site for biometrics
Changi Airport Group (CAG), a headline partner of FTE Asia EXPO 2018, is among the industry leaders when it comes to the deployment of biometric-enabled passenger processing. The new Terminal 4 opened in October 2017 and became the first terminal at Changi Airport to offer end-to-end Fast and Seamless Travel (FAST) for departing passengers.
The implementation of FAST across the terminal means that at all passenger touch-points – from check-in and bag drop to immigration and boarding – self-service and biometric technology helps to provide passengers with a seamless and intuitive experience.
At the point of check-in, passengers can use self-service kiosks to print their own boarding passes and bag tags. They can then drop their bags at an automated bag drop machine after their identity has been verified. At immigration, passengers can scan their own passport, boarding pass and fingerprints to facilitate the necessary identity checks. The automated immigration gates also use facial recognition technology to authenticate the passengers' identity.
Meanwhile, at the boarding gate, biometrics technology has also been implemented. Passengers who have used the automated immigration gate can simply scan their boarding pass at the gate and authenticate their identity with the facial recognition system.
CAG's Executive Vice President – Airport Management, Lye Teck Tan, will deliver a keynote address in the Premium Conference at FTE Asia EXPO 2018 entitled: "The Changi Experience: Understanding the needs of our customers to create a positively unique passenger experience". IDEMIA, whose biometrics solutions are in use in Changi Airport Terminal 4, will also be showcasing its solutions in the exhibition. You can register for your free pass here.