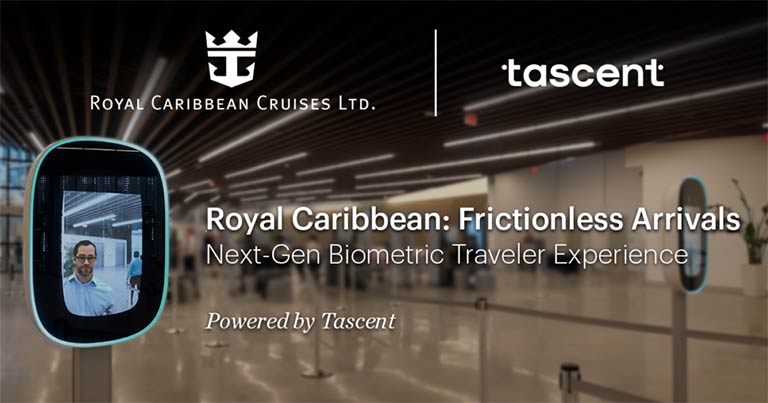 Biometric technology is not only having a significant impact on the air travel experience, it is also set to make a big difference for cruise passengers.
Tascent has announced that it has been selected by Royal Caribbean Cruises Ltd. to deliver an end-to-end biometric solution utilising facial recognition technology to streamline the check-in and boarding process for cruise customers.
Following an intense, fast-paced development effort, the all-new solution is set to go live imminently and will be first utilised with Royal Caribbean's groundbreaking Celebrity Edge ship, with the first departure to take place at the newly-opened Terminal 25 in Fort Lauderdale, Florida.
To take advantage of Royal Caribbean's new facial recognition-enabled Expedited Arrivals process, passengers can register from the comfort of their own home and then breeze through check-in and boarding upon arrival at the terminal.
To deliver the solution, Tascent developed a fully-customised face recognition device that reflects Royal Caribbean's brand and vision and engages travellers with a welcoming, intuitive experience.
Integrated with Tascent Enterprise Suite and Royal Caribbean's passenger systems, this enables seamless, "on-the-move" recognition of registered passengers as they arrive for their cruise. In combination, this capability will result in a streamlined, efficient process and personal welcome for travellers.