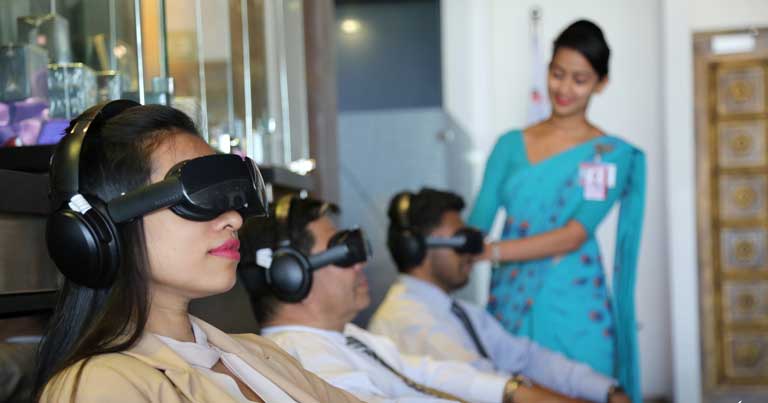 SriLankan Airlines, in partnership with immersive entertainment specialist SkyLights, has unveiled a new personal virtual reality (VR) cinema in its Business Class Serendib lounge at Bandaranaike International Airport. SkyLights' Allosky and Skykids cinematic VR headsets offer passengers the opportunity to enjoy the latest films and TV series in 2D, 3D and 360° on individual immersive headsets.
In offering this innovative new service, the national carrier looks to transform the time passengers spend waiting. If deemed successful, SriLankan Airlines may also look to introduce the service onboard its long-haul flights.
SriLankan Airlines has selected SkyLights' Allosky and Skykids solutions to create a dedicated private cinema area as a new type of guest experience including keeping children entertained during their stay at the lounge.
Vipula Gunatilleka, Chief Executive Officer, SriLankan Airlines, said: "We are pleased to partner with SkyLights in our endeavour to provide a memorable travel experience to our valued customers. Introducing this immersive cinema experience for the enjoyment of our premium passengers is a truly progressive step given that we are one of the first airlines in the Asian region to adopt the service. We continue to embrace new technology and trends in all our service aspects whereby to provide a unique passenger journey amidst the comforts of contemporary air travel complemented with the traditional Sri Lankan warmth and hospitality."
With the sleek and comfortable Allosky headsets and Bluetooth headphones, guests at the Serendib lounge will have access to some critically-acclaimed films in full HD. Thanks to focus adjustment on the device, passengers that wear reading glasses can also enjoy the service.
For younger travellers, films such as Ferdinand (3D), Harry Potter and The Lego Batman Movie (3D) will be available on Skykids headsets, which have a fun design, are easy to use, and allow reading glasses to be worn inside of the headset.
"The lounge is an important part in the premium customer journey and to date there has been little in the way of passenger entertainment in this space," says David Dicko, SkyLights CEO. "With SriLankan Airlines we secure our first deployment in the Asia-Pacific region. Together we are working to set a new standard in customer experience before passengers even step foot on the plane."