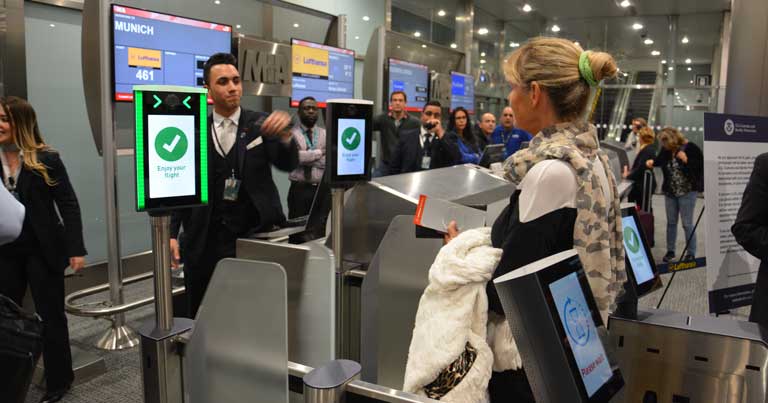 Miami International Airport (MIA) has launched biometric exit technology for passengers travelling to Munich Airport with Lufthansa.
"MIA continues to explore innovative ways of streamlining and expediting the travel experience for visitors to our community," commented Miami-Dade County Mayor Carlos A. Gimenez. "I look forward to seeing biometric exit technology expand throughout MIA and enhance the level of customer service for its passengers."
Through a partnership between MIA, Lufthansa, U.S. Customs and Border Protection (CBP) and SITA, a simple photograph taken at Lufthansa's boarding gate is used to confirm each passenger's identity and their authorisation to travel. The facial recognition verification process takes less than two seconds with a 99% matching rate, according to CBP. MIA expects to launch biometric boarding with additional airlines this year.
Christopher Maston, Miami Port Director, CBP, said: "CBP is leading the transformation of the travel experience, but we could never do this alone. Our collaboration with our partners at the Miami-Dade Aviation Department, Lufthansa and SITA has resulted in real momentum toward enhancing both traveller safety and convenience at MIA. Collectively, we are making history and delivering clear and undeniable benefits to travellers."
Dr. Bjoern Becker, Senior Director Product Management Ground & Digital Services, Lufthansa Group, added: "Lufthansa prides itself as being an industry leader and trendsetter in digitalisation and innovation, and biometric boarding is a large part of this category. Biometric boarding is an efficient and hassle-free form of travel that helps speed up the boarding process while also increasing security. We are thrilled to be the launch airline that introduces this technological advancement at MIA."
The launch of biometric exit at MIA follows the airport's February 2018 opening of America's first all-biometric entry facility at Concourse E, which screens all international arrivals via facial recognition. The facility has decreased the processing times by 80% for participating airlines.
"We are proud to partner with CBP and SITA to provide this cutting-edge technology for Lufthansa passengers at MIA," explained Lester Sola, Director and CEO, Miami International Airport. "Biometrics is one of the many approaches we are taking to modernise our airport infrastructure, to make the travel experience as seamless as possible."