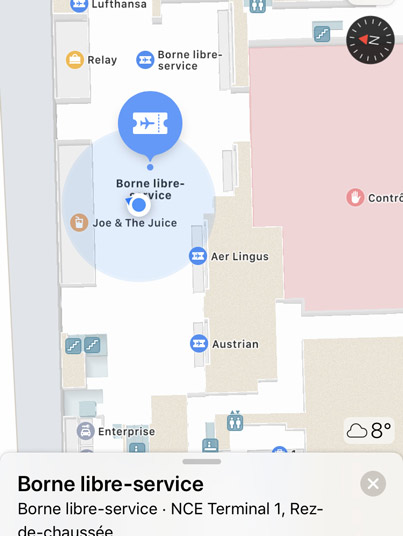 Nice Côte d'Azur Airport has become the first airport in France to bring detailed terminal maps to Apple Maps, providing the airport's 14 million annual passengers with a powerful new tool to navigate through the airport.
Using Apple Maps on their iPhone or iPad, passengers can plan their journey through the airport in advance of their flight, including finding nearby restaurants, shops, baggage claim, security checkpoints, and restrooms.
Indoor positioning gives passengers an instant view of where they are within the terminal which helps them get to where they need to go next.
The Nice Côte d'Azur airport terminal maps in Apple Maps will be updated regularly to ensure accuracy including when new stores and locations open.
"We are not only proud to be the first airport in France to offer this live, multilingual geolocation solution to our passengers – we are also convinced that it is essential to provide an increasingly seamless and effortless digital experience for connected travellers who want it," said Dominique Thillaud, Chairman of the Board, Aéroports de la Côte d'Azur.
This innovation is part of Nice Côte d'Azur Airport's wider policy to provide a smoother passenger experience. Before their trip, travellers can use the airport website or app for last-minute preparations, such as checking traffic, finding out their departure terminal, booking a parking space (Click&Park) and buying a no-queue pass to quickly access the security checkpoint (Nice Access). They can also make purchases in the shops of the terminals before boarding and collect them on their return to Nice Côte d'Azur (Shop & Collect) to travel lighter.