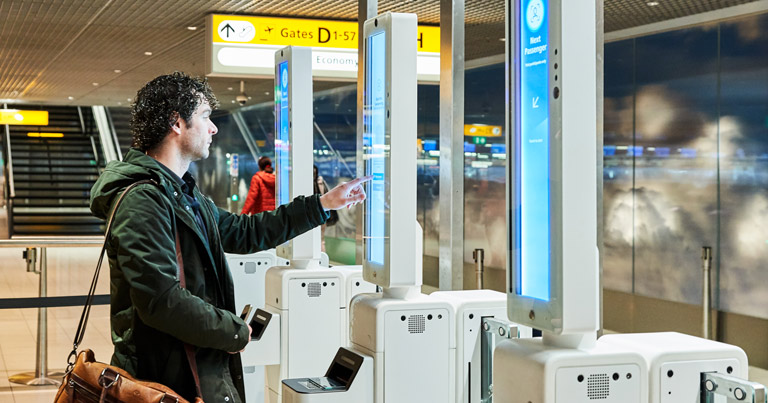 Passengers travelling with Cathay Pacific can take part in a trial of facial recognition boarding at Amsterdam Airport Schiphol. The trial is part of the first phase of the Seamless Flow programme, which aims to enable seamless travel using facial recognition technology.
After check-in, participants in the pilot will be accompanied to one of the special registration kiosks, where they will have their passport, boarding pass and face scanned, before proceeding to security and passport control. When boarding, the passenger's face will be scanned at the gate. The scan will be compared with the one produced when registering. When the face is recognised, the gate opens and the passenger will be able to board immediately, resulting in greater convenience for the passenger and a smoother flow at the airport.
"For passengers, the journey from arrival at the airport to boarding will become easier and more efficient," says Wilma van Dijk, Director of Safety and Security at Schiphol. "At present, you still need to show your passport, your boarding pass or both at various checkpoints within the airport; for example, when you drop off your baggage, during security checks, when you cross the border and during boarding. In future, you will be able to pass through these checkpoints more smoothly due to being recognised by your face. You can leave your passport and boarding pass tucked away in your bag."
"As Cathay Pacific is always looking for ways to improve our customers' experience at every stage of their journey with us, the experience at the airport forms an important and integral part of that journey," added Will Kerr-Muir, Country Manager France and Benelux at Cathay Pacific. "For this reason, we are pleased to take part in this innovative trial, so we can prepare ourselves and our passengers for the travelling method of the future in cooperation with Schiphol."
During the months ahead, scanning the face, passport and boarding pass will be tested on registration and during boarding. In the next phase, this list is intended to be expanded to passport control over the course of the year. In the pilot, the procedure and equipment will periodically be evaluated and adjusted if necessary.
For testing this innovation, a consortium has been created with the Government, Amsterdam Airport Schiphol, Cathay Pacific, KLM and Vision-Box, which developed the Seamless Flow technology platform.