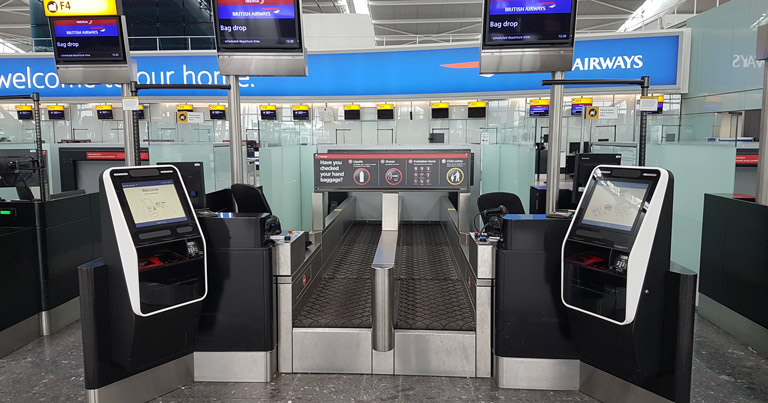 Heathrow Airport's rollout of self-service bag drop (SSBD) units is gathering pace with over 100 Series 1 Type 2 units now live as airlines in Terminals 2, 3 and 5 have embraced the technology.
Designed and installed by ICM Airport Technics, the SSBD units reduce passenger check-in times, and are currently in use by airlines including Aegean Airlines, Aer Lingus, Austrian Airlines, British Airways, Brussels Airlines, Cathay Pacific, Croatia Airlines, Delta Air Lines, Eurowings, Finnair, LOT Polish Airlines, Lufthansa, Scandinavian Airlines, Swiss International Air Lines, TAP Air Portugal, and Virgin Atlantic.
In early 2018 a framework agreement was signed between ICM and Heathrow for collaboration on an integrated SSBD product for use in all Heathrow terminals. This terminal-wide implementation sees ICM delivering the units, complete with CUSS platform and White Label application, as well as providing a range of managed support services.
The installation is part of Heathrow Airport's automation programme, offering self-service options to passengers, including an ambitious biometrics project which will see biometrics used across the passenger journey including bag drop.
As reported by FTE last October, Heathrow Airport announced plans to invest £50 million in a full-scale rollout of new biometrics services from summer 2019.
Prior to the installation of the Type 2 units, ICM's SSBD technology was already in use at Heathrow with 24 Series 1 Type 1 units in operation at Terminal 5 with British Airways.
Mike Sanderson, Managing Director of ICM UK, commented: "We are thrilled by Heathrow's adoption of ICM's self-service bag drop technology, and proud to be at the forefront of technological advancements at the world's best-known airport. Having such a large presence at yet another world-class airport confirms ICM's position as a leader in the self-service bag drop market."