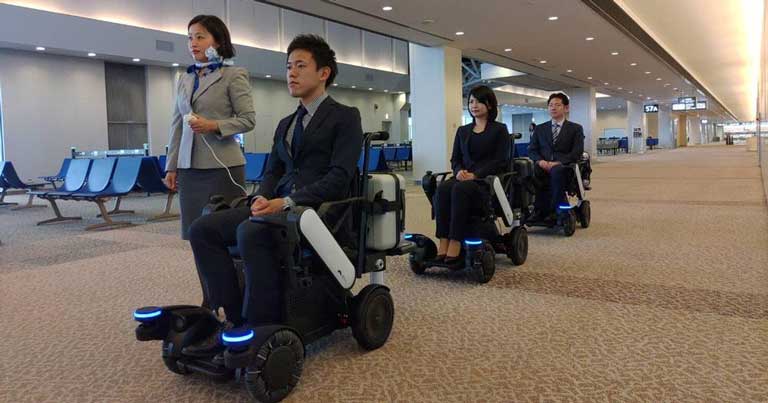 All Nippon Airways (ANA) and Panasonic Corporation have announced that they will work together to test the latest generation of personal mobility self-driving electric wheelchairs, as part of a far-reaching plan to increase mobility and accessibility options at Tokyo Narita International Airport. Incorporating robotic elements, these wheelchairs will be able to safely navigate through the airport independently, making them an ideal mobility solution for passengers with connecting flights.
Narita Airport's size and high volume of activity can make travelling through the terminals inconvenient for elderly travellers with mobility issues. In order to meet these demands, ANA and Panasonic will be trialling the new wheelchairs, which boast tracking capabilities allowing them to navigate through the airport.
"Narita Airport is a gateway to Japan for millions of travellers every year and we seek to partner with other leading Japanese innovators to make sure that arrival, departure and making connections are all as convenient as possible," said Juichi Hirasawa, Senior Vice President, ANA. "ANA's partnership with Panasonic will make Narita Airport more welcoming and accessible, both of which are crucial to maintaining the airport's status as a hub for international travel in the years to come. The robotic wheelchairs are just the latest element in ANA's multi-faceted approach to improving hospitality in the air and on the ground."
The self-driving electric wheelchair jointly developed by Panasonic and WHILL Co., Ltd., is capable of independently detecting and avoiding people and obstacles on the way to their destinations.
The wheelchairs function by following a predetermined leader to a common destination, and ANA staff will be on hand to serve as guides. The smart elements and adaptability make the wheelchairs a perfect fit for Narita Airport, particularly in helping passengers reach their connections on time.
By modernising accessibility at Narita Airport, ANA and Panasonic are looking for ways to offer practical innovation for travellers.