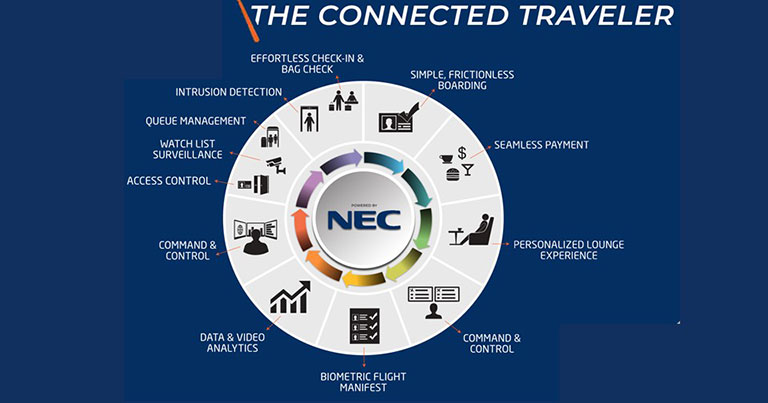 Sponsored advertorial by NEC
"Getting there is half the fun" goes the old travel slogan, but air travel today can be filled with anxiety and, according to a survey by the International Air Transport Association, most travellers just want to get through the airport as quickly as possible. Good news though: technology is changing all that, and now a simple smile will be all it takes to unlock a frictionless, more enjoyable airport experience.
"The overall vision starts with a seamless journey that allows customers to move effortlessly through security infrastructure at airports, sea ports, land border crossings and beyond without ever having to produce a travel document or boarding pass," says Benji Hutchinson, Vice President Federal Operations, NEC Corporation Advanced Recognition Systems Division.
The seamless kerb-to-gate experience
Technology today is transforming the airport experience. In 2018, more than 4.3 billion passengers took to the skies, with the number of total air passengers forecasted to double by 2036. The new technology does not just let airlines, airports and government authorities keep up with increasing passenger traffic. Instead, cutting-edge biometric and AI technologies are changing our very experience of air travel, for the better.
The journey first begins when a U.S. citizen opts in, registering their biometric data and authenticating their identity. The U.S. government stores the passport images, as is currently the case; the data collected in the aviation environment is encrypted, then destroyed after a short time – less than two weeks. Once that step is complete, travellers can then check in to their international flight at an automated, kerbside kiosk using facial recognition technology. There is no need to hunt for a paper itinerary or fumble with their phone. Once checked in, they can drop off their bags, again, using just their face. From here, they will navigate to a TSA (Transportation Security Administration) checkpoint, where they will again use their face in place of a passport and boarding pass. Moreover, once inside the terminal, they can proceed to their boarding gate, completing the seamless curb-to-gate experience.
"The vision is to extend the concept to hotels, car rental agencies and retailers all along the travel process, which would create efficiencies anywhere that weary travellers have to wait in lines," says Hutchinson.
The implementation of biometric and facial recognition technology was initially motivated by security needs as a direct result of the events of September 11, 2001. The Department of Homeland Security, through U.S. Customs and Border Protection, invested in the core security and identity-matching technology and, to date, has used it to identify and prevent the illegal entry of more than 100 imposters at U.S. ports of entry.
This same technology is working behind the scenes in operation centres to further automate systems throughout the airport, like baggage check, and enhance airport security without increasing personnel. Behaviour detection, crowd analysis and watch-list screening offer real-time insights, monitoring suspicious activities or a sudden rise in crowd levels. This allows security to be proactive as well as have the ability to quickly dispatch personnel if needed.
Now, its benefits are expanding beyond the customer experience – as an operational benefit to the airline industry, says Hutchinson. "So now, transportation carriers have the added benefit of offering a seamless traveller journey while also improving their bottom lines through faster boarding and improved customer satisfaction."
To learn more visit https://partners.wsj.com/nec/seamless-travel/ or www.necam.com/aviation. Stop by the NEC booth at FTE Global 2019 in Las Vegas, September 4-6, to see how NEC is using AI and biometric technologies to create a seamless kerb-to-gate travel experience.