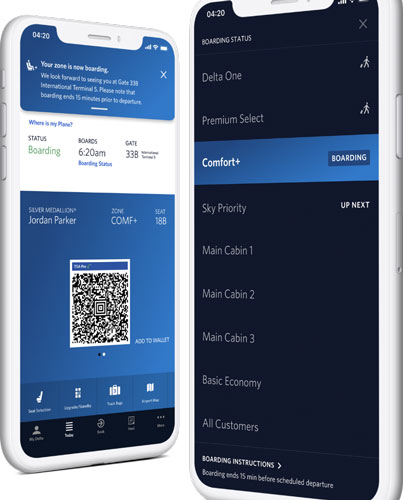 Delta Air Lines customers are now being notified when their seat is boarding, thanks to a new virtual queuing feature on the Fly Delta app. The new feature will allow passengers to relax before their flight at nearby food & beverage outlets at the airport terminal.
"We continue to put boarding under the microscope – looking at how technology can help alleviate some of the crowding at the gate that all of us have experienced," said Rhonda Crawford, Vice President – Global Distribution & Digital Strategy, Delta Air Lines.
"Customers have told us that being notified when their seat is boarding will help reduce the stress of that experience."
The feature, which was announced during Delta CEO Ed Bastian's keynote at CES, is the latest step in the Fly Delta app's transformation into a digital concierge, which already includes integrating real-time TSA wait times in specific cities, offering pre-selected meals and launching international automatic check-in.
During his keynote, Bastian also shared that the airline is focusing on evolving its app to become the ultimate travel companion for all points of the journey, following customers' feedback that they want Fly Delta to become their 'home base' for managing their travel day.