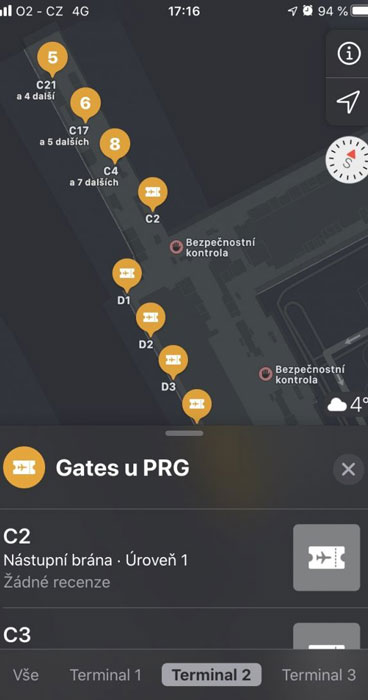 Prague Airport has partnered with Apple to launch a digital map that depicts the interior of the airport terminals in detail. The new service allows Apple Maps users to track their current location on the airport map and easily find check-in counters, security checkpoints, shops or restaurants.
"With the help of our interior map, passengers can easily navigate at the airport terminals, making their journey through the airport more pleasant, quicker and more efficient," says Ondřej Svoboda, Manager of Marketing Communication and Corporate Identity of Prague Airport. "The application may also be useful to those who like to plan ahead and wish to prepare for their journey. Before leaving for the airport, they may virtually look around at the terminal from which they will depart. We believe that this will make the experience of being at the airport more pleasant for our passengers."
He added: "By launching our interior map in Apple Maps, our airport has joined major international airports, such as Hartsfield-Jackson in Atlanta, Beijing International Airport, or Heathrow in London."
Users can find the interior of a selected Prague Airport terminal by zooming in directly in Apple Maps. The application shows the user's current location, making it easier to find their way to check-in counters of the individual airlines, security or passport control, departure gates or baggage claim conveyor belts (including their identification numbers).
In addition, the user will find the closest restrooms and various supporting services, such as baggage packing, information desks, first aid, a children's play area, relaxation zone, office assistance services, ATMs, shops and restaurants.
Each floor is distinguishable through the use of differentiation and themed search icons, which open the list and location of each service. Users are also able to utilise Apple's virtual assistant, Siri, to help them search for what they are looking for. The service is available to users of all iOS and iPadOS operating system devices.