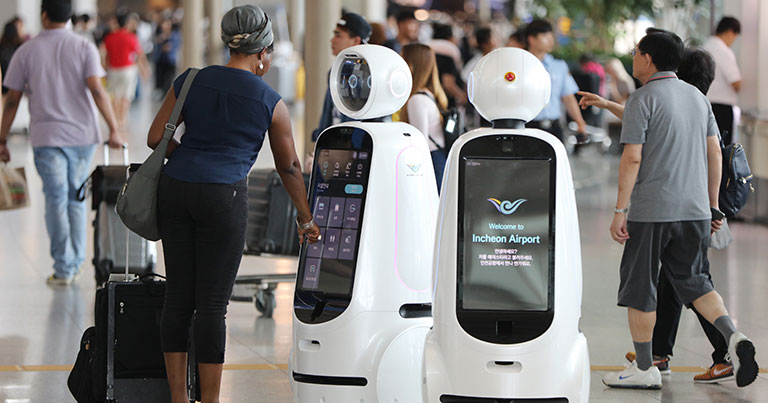 Incheon Airport's Smart Airport Team is responsible for introducing, developing and operating innovative processes and services, and ICT related projects within the South Korean hub airport. Jungy Han, Manager, Smart Airport Team, Incheon International Airport Corporation (IIAC), explained to FTE that a big motivation is quite simply to create a "better airport for passengers and employees".
"The primary role of the Smart Airport Team is to establish and manage the strategy and projects of the smart airport in Incheon Airport," he explained. "We guide and promote other divisions of IIAC, and moderate the difference between the strategy and projects based on new technologies the other divisions are developing. We are also in charge of developing and operating big data platforms, robots, self-driving vehicles, etc."
"COVID-19 Free Airport"
Of course, overcoming the COVID-19 crisis is among the most pressing priorities. "As Incheon International Airport is the gateway of Korea, after seeing the initial spike of COVID-19 in February, we thought it is most important to focus on early diagnosis and prevention of the spread of the virus. As IIAC announced the "COVID-19 Free Airport" strategy, we focused on thorough three-step quarantine, providing the most robust disinfection, sterilisation and sanitisation, with close cooperation with the government and other related agencies, including the KCDC (Korea Center for Disease Control and Prevention) and airlines," Han said. On 30 April, South Korea recorded its first day with no locally transmitted cases of COVID-19 since the middle of February.
As the industry continues to grapple with the impact of the coronavirus, IIAC is supporting its fellow stakeholders – including airlines, ground handlers, duty free operators, F&B operators and others – with discounts on charges, and new incentives. "Upon the stabilisation of the crisis, we plan to focus on passenger traffic recovery and generating new traffic demand as well," Han added.
Robotics, RFID, big data and biometrics
Meanwhile, the Smart Airport Team is continuing its important work. For instance, it is working to improve the airport experience for people with reduced mobility (PRMs), using robotics technology and automated vehicles. Delivering technology-driven operational efficiency is another priority, and the team is currently developing a big data platform to help optimise airport operations. IIAC also plans to establish an artificial intelligence (AI) air traffic control (ATC) platform which will "bring a brand new way of working to ATC officers".
Biometrics, Radio Frequency Identification (RFID), Common Use Passenger Processing Systems (CUPPS), and self-service check-in and bag drop implementations are also on the agenda.
At FTE APEX Asia Expo in Singapore (10-11 November 2020), a number of the Smart Airport Group's products will be on show on the company's exhibition booth. Among them will be AirCUS, a CUPPS system co-developed by Uriel Soft and IIAC; and AirBRS, which provides accurate recognition of baggage in compliance with IATA standards.
AI X-ray, co-developed by SoftonNet, LG CNS and IIAC, will also be showcased. State-of-the-art AI technology is embedded in this X-ray algorithm, significantly reducing the burden of security and detection officers and enhancing security thanks to detection of prohibited items.
A robot cart, which has been co-developed by Wonik Robotics and IIAC will soon be deployed in the airport terminal and will also be presented at the event, as will an automated indoor vehicle, co-developed by Thor Drive Inc. and IIAC. The first two automated indoor vehicles are due to enter operations in T1 and T2 later this year.
"We look forward to introducing our co-developed solutions with our partners at Incheon Airport and hopefully putting our solutions in other airports worldwide as well," Han stated. "We also look forward to seeing other fascinating technologies and solutions, sharing our ambitions and goals, and getting inspired."
New opportunities
Looking ahead to the next 12 to 36 months, Han identified AI and biometrics as having a crucial role to play in the aviation industry. "I have to admit that it takes time to achieve actual consolidation of technologies within the aviation industry," he explained.
"Still, as for technology growth, there are so many expanded possibilities in airport operations. For example, there are already many developments and studies done around big data, but there are so few who optimise its outcome. In my opinion, the one who makes the creative application of technologies will lead the whole aviation industry."