Hong Kong International Airport (HKIA) is among the airports welcoming more passengers this month, as the aviation industry is gradually bouncing back from the impacts of COVID-19.
Steven Yiu, Deputy Director, Service Delivery of Airport Authority Hong Kong (AA), spoke to FTE about the airport's COVID-19 strategy, which includes advanced disinfection technologies and market stimulation measures, and how previous crises, such as the SARS outbreak in 2003 and anti-government protests in 2019, have informed the airport's approach to dealing with challenging times.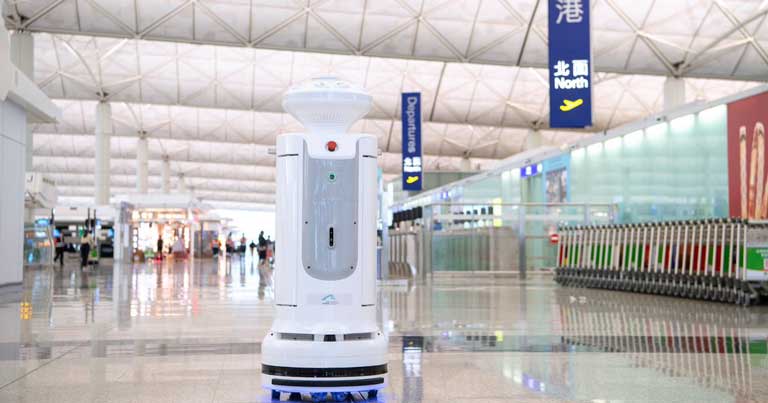 FTE: What has been the measurable impact of COVID-19 on Hong Kong International Airport so far?
Steven Yiu: Passenger traffic at Hong Kong International Airport (HKIA) continues to suffer a significant decline due to COVID-19 as immigration restrictions and quarantine measures of countries and regions worldwide have remained in place, while airlines have reduced flights. Over the first quarter of the year, HKIA handled 8.2 million passengers and 63,345 flight movements, representing year-on-year decreases of 56.5% and 40.1%, respectively. Cargo throughput fell 10.9% to 988,000 tonnes compared to the same period last year. The volume of cargo is comparatively stable as compared to pre-pandemic period.
FTE: What disruption/crisis management initiatives have already been implemented at Hong Kong Airport as a result of COVID-19?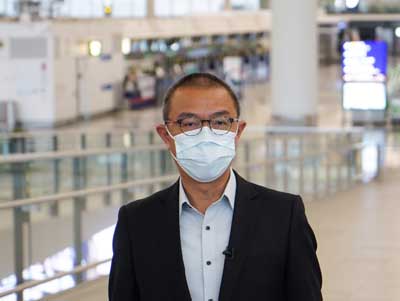 SY: Airport Authority Hong Kong (AA) always puts the safety and wellbeing of passengers and airport staff at first priority, and spares no effort in ensuring that HKIA is a safe airport for all users. Since the SARS outbreak in 2003, AA has put in place established procedures in handling infectious diseases to facilitate quick response and readiness at times of contingency. Routine surveillance on the body temperature on all arrival passengers has also been in place since then.
Transit/transfer services at HKIA have gradually resumed since 1 June 2020. In tandem, preventive measures are strengthened, including mandating all passengers to wear face masks in the restricted area; transit/transfer passengers have to undergo compulsory body temperature screening upon arrival; designating dining areas to transfer/transit passengers; cleaning and disinfecting boarding gate areas and airbridges after each flight; reminders for passengers to keep distance, among others. Frontline staff members are provided with personal protective equipment, and disinfection supplies including alcohol-based hand rub. Daily briefing is conducted to remind staff on the protective measures, including keeping a proper distance from passengers. COVID-19 tests are provided by Hong Kong government for airport staff, and disinfection channels are available for use by frontline staff.
We have been working closely with the Hong Kong government on the implementation of infection control measures and quarantine procedures since the outbreak. Through public announcements, notices on the official website, mobile app and social media platforms, the AA conveys latest information on quarantine requirements for inbound travellers. We keep the airport community abreast of the latest situation on the pandemic situation and the latest preventive measures taken.
As COVID-19 dealt a heavy blow to the entire aviation sector, the AA has also introduced an array of relief measures worth up to HK$4.6 billion to support business partners and airport staff, including rental concessions, reduction or waiver of fees, staff training allowance, among others.
FTE: Terminal operations at Hong Kong Airport were also severely disrupted as the result of the anti-government protests which took place last year. How did your experience then inform your approach to keeping passengers informed during this current COVID-19 crisis?
SY: During the public assemblies held at HKIA last year, the AA closely monitored the situation and worked with its business partners to maintain airport operations, while striving to disseminate information to passengers and as quickly as possible. We have adopted the same approach for the COVID-19. Be it public announcements or passengers' enquiry, we have made timely and prompt responses to ensure that our passengers are informed and updated.
FTE: Can you provide some information on specific projects that you and your Hong Kong Airport colleagues are working on or planning to help prepare for post-coronavirus operations?
SY: We are in discussion and preparation with different parties in the aviation industry on the matter. The timing and speed of the resumption of air traffic will depend on many factors, including the situation of the pandemic in different destinations, operations and readiness of airlines, as well as travel restrictions worldwide.
It has been announced in April that, as both a market stimulation measure and a support measure for the aviation industry in Hong Kong, the AA would purchase some 500,000 air tickets in advance from our four home-based carriers. The advance purchase of tickets will help increase the airlines' liquidity upfront. The tickets will be given away to global visitors and Hong Kong residents in the future market stimulation campaign.
We will also continue to implement different measures to keep HKIA safe for all users. Technology is a helpful tool. We are applying some latest technologies in helping us step up the effectiveness in disinfection and sanitisation within the terminal buildings. We are trialling a full-body disinfection channel, and conducting a pilot test of applying antimicrobial coating on frequently touched surfaces of passenger facilities to kill viruses and bacteria. Autonomous cleaning robots have also been deployed to assist cleaning and disinfection of public areas and passenger facilities.
Protecting the health of passengers and airport staff is our top priority. Recently, we've trialled the "CLeanTech", a full-body smart disinfection channel facility and pilot-tested an antimicrobial coating application. Know more from below. 👀#hkg #aviation #fightcovid19 pic.twitter.com/jDa4nDfAB2

— HKIA (@hkairport) April 30, 2020
FTE: To what extent is the ongoing disruption helping to boost collaboration both between internal departments and with external stakeholders?
SY: The AA has always kept in close contact and cooperation with external stakeholders, as well as our own internal departments to handle all sorts of incidents and contingencies at HKIA. During the pandemic, we are working closer than ever with the airport community and government departments concerned to facilitate the implementation of quarantine measures by the government and to understand the needs and operations of various parties. Examples include setting up facilities and procedures at the airport for arrival passengers to go through health declaration and quarantine measures mandated by the government; working out the logistics of the establishing of and transporting passengers to a test centre near the airport. We are also grateful for the dedication and professionalism of our 73,000 airport staff who have been working tirelessly to protect the airport and passengers against the virus in this very challenging time.
FTE: Some airports and airlines are temporarily furloughing innovation team members whereas others have said that innovation will play a crucial role in the coming months. What are your views on this – how important a role will innovation play in helping Hong Kong Airport, which is also a member of the FTE Innovation & Startup Hub, adapt and prepare for the future?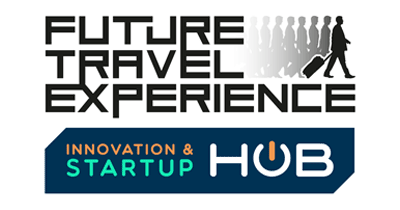 SY: Airport Authority Hong Kong places much importance on innovation and aims to develop Hong Kong International Airport into a smart airport. We leverage technology to facilitate more efficient operations and a seamless experience for our passengers. In view of the epidemic, the airport is pushing forward the implementation of a seamless boarding experience using facial recognition technology, as well as adopting technologies like antimicrobial coating on high-touch surfaces and disinfection channels, to ensure that both our staff and passengers feel comfortable and safe in our airport. In the future, we will continue to study the utilisation of innovation and technology at HKIA.
It has been a very trying time for the global aviation industry. As for the AA, we have been trying our best to support airlines and other business partners at HKIA. AA has not furloughed, dismissed any of its staff, and we have been trying to support staff of our business partners by setting up a training allowance programme for those who have to take no-pay leave in these few months.
FTE: What other adaptations do you think may have to be made to airport terminals post-pandemic? For instance, do you expect social distancing measures and other new health & safety measures to become permanent features?
SY: Passengers would expect a higher standard for the cleanliness and safety for their airport journey post-pandemic. The AA is reviewing the effectiveness of the various disinfection measures and technologies that we are using or trialling, and consider the feasibility of implementing them as long-term measures.
FTE: What other insights can you share about what you expect to happen next?
SY: The pace of recovery of the global travel will depend on factors such as the pandemic situation, travel restrictions, travel demand, global economy, etc. Travellers' expectation and preferences may also change. The aviation industry will have to respond to changes promptly. We will closely monitor developments and plan our business accordingly.
Read FTE's vision for how COVID-19 could change the end-to-end passenger experience forever >>