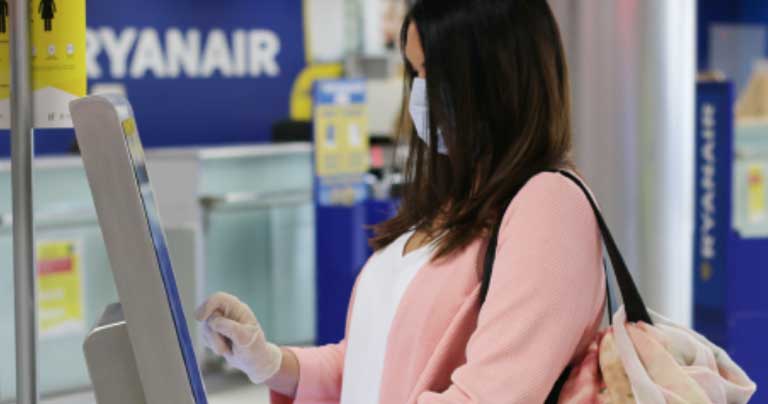 Ryanair has issued a new set of guidelines that will help to protect the health of passengers and crew as it prepares to resume 1,000 daily flights from 1 July.
The measures include new compulsory rules to help prevent the spread of COVID-19, as well as recommendations for passengers to limit interactions, and improved health and cleaning procedures on the aircraft:
Mandatory masks – customers to wear face masks/coverings at all times in the terminal and on board the aircraft; Ryanair crew to wear face masks for the whole duration of the flight, including boarding and landing.
Temperature checks – on all persons entering the airport (prior to check-in/ security screening), customers are also urged to check their temperature prior to departing home.
Hand hygiene – customers & crew are encouraged to regularly hand wash and use hand sanitisers throughout airport terminals before boarding.
Pre-airport check-in & boarding pass – customers are encouraged to check-in online and download boarding passes via the Ryanair app.
Self-service – bag drops limited to self-service in all airports where service is available. Customers are also encouraged to self-scan their boarding passes when boarding.
Limited baggage – customers are urged to minimise baggage – preferably to 2 carry-on bags only.
Fast track & priority boarding – use of the fast track service to reduce queuing times at airport security and Priority Boarding to reduce interaction.
No queuing – during boarding no customers will be allowed to dwell in boarding stairwells or air bridges; queuing will not be allowed on board at toilets.
Cashless payments – card payments only for all inflight purchases and airport fees/charges.
Limited trolley service – a limited inflight Getaway Cafe service will operate offering pre-packaged snacks and drinks; Ryanair's Runway Retail inflight magazine will be only available on the Ryanair app.
Aircraft sanitisation – all aircraft disinfected daily with hospital grade disinfectant chemicals that are effective for over 24 hours.
HEPA filters – fleet fitted with state of the art filtering system, which removes airborne particles and recycles air flow every 3-4 minutes.
Tomorrow we return with 1000 daily flights across Europe – here's your checklist for healthy flying to tick off before you leave for the airport ✅👇 pic.twitter.com/9j479V1PWC

— Ryanair (@Ryanair) June 30, 2020
Ryanair's CEO Eddie Wilson said: "We are delighted to be back flying from 1 July, and we encourage our guests and our people to follow Ryanair's new 'Healthy Flying' measures to prevent the spread of COVID-19 and protect them across their whole journey.
All the aircraft are fitted with state of the art filters – which remove any airborne particles while you travel – and every aircraft is disinfected daily with chemicals that are effective for over 24 hours. With temperature checks, face masks, cashless flights and self-service where possible, our customers can rest assured that we are doing everything we can to reduce human interaction and protect their health when flying Ryanair.
We will now require our guests to follow a set of simple guidelines to help prevent the spread of COVID-19. At Ryanair we are doing everything we can to return to flying so we can reunite friends and family, allow people to return to work, and begin to restart Europe's tourism industry, upon which millions of jobs, especially for young people, now depend. We thank our customers in advance for flying Ryanair and for complying with these additional public health measures which are promote the welfare of our guests and our people."
Last week, Ryanair's Director of Route Development Niall O'Connor starred in a fast-paced webinar, organised by FTE's sister business unit anna.aero. Entitled "Time to get Ryanair flying again", the webinar focused on the airline's route development strategy, ahead of its service restart from 1 July. Watch the 30-minute video here.