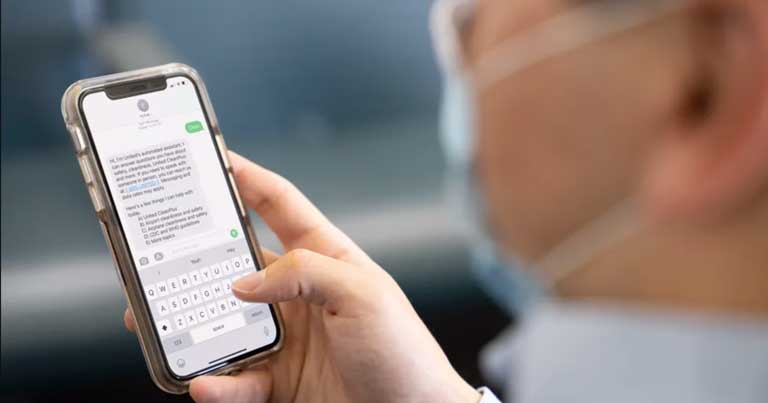 United Airlines has launched a new chat function, the United Automated Assistant, to give customers a contactless option to receive immediate access to information about cleaning and safety procedures put in place due to COVID-19.
Passengers can text "Clean" to FLYUA (35982) to ask questions concerning boarding procedures, masks, and touchless check-in options without having to call or wait in line for an answer from a United employee.
"The travel experience has changed a lot from just a few months ago – we've overhauled our safety and cleaning procedures and this new text functionality makes it easier for our customers to stay informed," said Linda Jojo, Executive Vice President for Technology and Chief Digital Officer. "Whether you want to know the latest about our social distancing and face covering policies or see how the boarding and deplaning process has changed, our Automated Assistant is designed to meet the customer where they are and get them answers in a simple, fast and easy way."
The United Automated Assistant could answer customers questions such as:
How is United keeping airports cleaner and safer?
Are United Club locations still open?
How can I prepare for an upcoming trip?
What is the quality of the air onboard a plane?
How are you cleaning and disinfecting your planes?
Are there any changes to service during flight?
The United Automated Assistant is part of the airline's United CleanPlus programme, an effort to put health and safety at the forefront of the entire customer experience, that includes partnerships with Clorox and the Cleveland Clinic, a mandatory mask policy, electrostatic spraying, touchless check-in capabilities and a pre-boarding health self-assessment for passengers.
The initiative is one of many recent innovations that have been developed to modernise the airline's service and create a more seamless experience for our customers. This launch follows another recently announced digital product that allows United customers on standby and upgrade lists to receive text notifications once they have been cleared and assigned a seat, saving them time and further limiting person-to-person interactions.
The circumstances surrounding COVID-19 are continuously evolving. Our friends at APEX have a dedicated COVID-19 page, which they'll be updating regularly to help keep you up-to-date on how the novel coronavirus is impacting the aviation industry. Visit the page for the very latest news >>