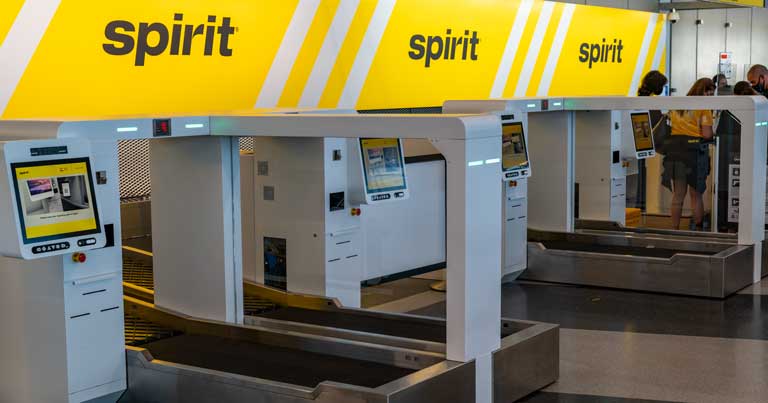 Spirit Airlines has announced that is it introducing biometric check-in at ticket lobbies at Chicago's O'Hare and New York LaGuardia airports to streamline the check-in process and reduce face-to-face interactions between passengers and staff during the COVID-19 pandemic.
Passengers can tag their own checked bags and then drop them off using an automated self-bag drop unit equipped with biometric photo-matching. Currently, an agent needs to check the passenger's ID, however, Spirit hopes to eliminate this step, for which it is currently awaiting approval from the Transportation Security Administration (TSA).
"We started looking at ways to improve the check-in experience in 2019 as part of our pledge to invest in the guest," said Ted Christie, President and CEO, Spirit. "We knew early on that automation and biometric photo-matching would make the check-in process smoother. Now in 2020, we're realising those same elements are just as valuable when it comes to helping people feel comfortable flying. Limiting touchpoints and unnecessary face-to-face interactions will change the way airports operate."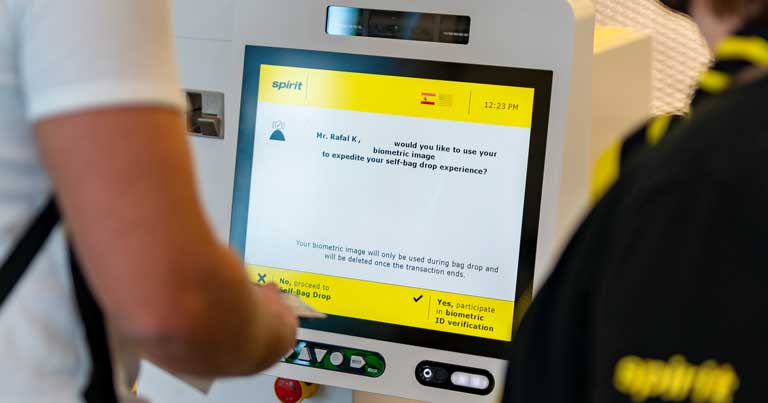 Here's how the biometric photo-matching works:
An agent manually verifies the passenger's identification before they approach the self-bag drop units. (Spirit expects to eliminate this step once the TSA completes its evaluation and approval process.)
Guests are advised of the biometric option prior to scanning their boarding pass at the self-bag drop unit. They may either opt in and continue unassisted or opt out.
Once the passenger opts in, the unit instructs them to scan their ID on the built-in hardware.
The unit compares its scan of the photo on the ID with a facial scan captured by its on-board sensors, along with comparing identification information with the passenger's reservation details. Spirit says that it doesn't share any data with government agencies or other parties.
A successful match initiates the rest of the automated bag check-in process. Guests are instructed to place their bags on the conveyor belt attached to the unit, which then scans the bags, weighs them, accepts payment for any additional optional services, and sends them straight into their airport's checked baggage system without any further action from the passenger.
Spirit began testing self-bag drop at LaGuardia Airport in January 2020 using technology developed by its hardware partner, Materna Intelligent Passenger Solutions (IPS) North America. Major airports outside the U.S. already use Materna's equipment to improve their check-in processes, but Spirit says it is the first airline to invest in bringing the experience to the U.S. The airline worked with the TSA to develop an entirely new framework for using biometric photo-matching during check-in and ensuring its accuracy. Spirit began testing the technology under TSA's supervision in May.
Currently, passengers check in around 1,000 bags daily at Chicago's O'Hare and New York LaGuardia airports. Spirit anticipates handling more than double that volume when demand for air travel returns to normal, 90% of which the airline expects to process via self-bag drop. The airline has also shared testing data, which shows the new procedure drops average processing time to just 70 seconds per customer, reducing time spent at bag check by 30%.
The self-bag drop system uses software capable of analysing key physical features on more than 50,000 forms of ID from nearly 200 countries. Combined with the units' scanning hardware, the software confirms the authenticity of an ID and rejects fraudulent documents.