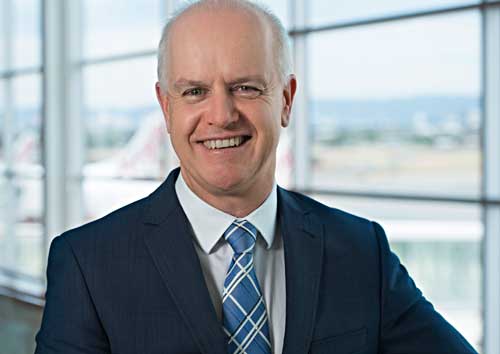 Adelaide International Airport experienced a 97% traffic reduction during the March quarter, as a result of continued travel restrictions both domestically and internationally due to the COVID-19 pandemic. Back in April, Australia banned all international travel, while the announcement that Virgin Australia is moving into voluntary administration, has further complicated domestic recovery.
Nevertheless, Adelaide Airport has been seeing first signs of recovery, especially following the reopening of the Sydney to Adelaide route late in September. "In South Australia we're opened to everybody. Sydney is a very positive step for us, and we see traffic starting to rebound a bit," says David Blackwell, Executive General Manager Technology & Innovation, Adelaide Airport, who recently spoke to FTE to reflect on how the airport has coped with the COVID-19 crisis during the past few months, and how it is adapting to post-COVID-19 operations.
From the very beginning of the outbreak, Blackwell explains that the main priority has been on keeping the airport's workforce safe and shifting to a secure work-from-home set up. "As an industry we deal with crisis quite frequently, and we rapidly implemented a risk based response. Back in January, we realised we were preparing for a major health crisis like SARS and issued our first briefing. By February, we started to sure up cash balances and liquidity, aggressively manage costs and prepare our people to work from home. I guess the thing that was the most impressive from my point of view is how much we cared about our people and how much focus there was on the wellbeing of our teams and keeping them informed through daily briefings, so that everyone is connected, and they all know what's going on."
He added: "We also joined the Australian Aviation Recovery Coalition to make sure the airlines and the airports talk with one voice when they're talking to governments and other industry partners. And I guess in the last month or two, we started to see a little bit of stabilisation in air business. We reviewed our strategic plan and found it still remains relevant. We have done a real deep dive into our main priorities from our strategic plan and now looking into how to implement them in the new environment."
$165m terminal expansion underway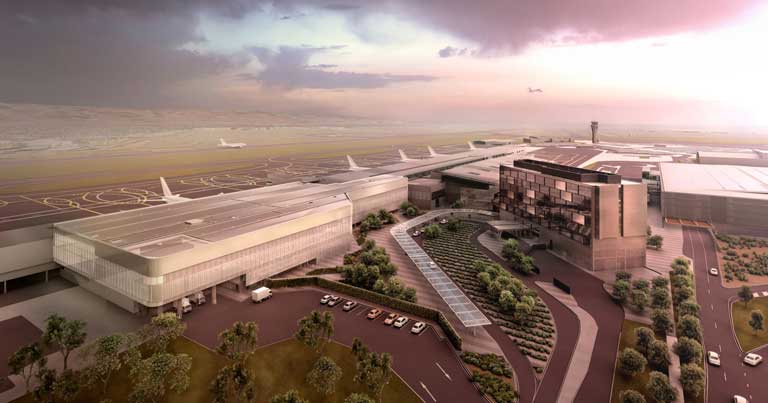 Meanwhile, Adelaide Airport has been progressing steadily with its A$165 million terminal expansion project, despite the COVID-19 situation.
Launched back in 2018, the terminal development aims to significantly upgrade international arrivals and departures and create more retail and dining options for domestic and international travellers.
Among some of the upgrades will be a second, longer baggage belt for arrivals, more space for emigration and immigration processing, expanded security screening, a larger duty free precinct for arrivals and departures, and expanded dining and retail options. An 80% increase in the overall size of the terminal's retail and dining precinct across domestic and international areas will include a unique South Austrian Providore food and retail offering. In September, the project reached its latest milestone with the completion of the outside glass façade.
"In 2005, we introduced a pretty unique terminal concept called 'the multi-user integrated terminal', which has international, domestic and regional travel all in one terminal," Blackwell explains. "We've also had automated bag drop and kiosks for about 10 years now, so we have already embraced some key technological advancements. The original design had a lot of the common use facilities, so we found it to be very efficient and we haven't gone too far away from this system. We will continue leveraging those kind of ideas, but what we have done is make it more efficient and bring it to 2020 standards."
He continued: "We're now trying to understand what's the next step. Biometrics is clearly going to be one way to solve the touchless conundrum. But are airlines and government partners ready and is this a pressing need? I don't think we have reached that point in Australia. So, we will institute new processes and systems when our partners need them and when it optimises their performance but I'm currently not convinced that our airline partners see this as their highest priority right now."
Customers want a touchless experience
At the upcoming FTE APEX Virtual Expo, which will take place on 8-9 December, Blackwell will moderate a panel of industry experts and technologists, to assess what the next generation of airport facilities will look like post-COVID-19 and what new technologies will likely be utilised in the airport terminal. Ahead of the event, he also shared his views on some of the trends that will shape the future passenger experiences.
"Simple efficient processes are going to be absolutely critical to returning confidence in travel. The majority of our customers want a touchless experience and we all need to figure out how to do this, while stripping away all the needless processes in the terminal."
Blackwell also agrees that technology such as automation in the airport terminal will become more prevalent post-COVID-19, but says that from Adelaide Airport's perspective, investment in such technology might prove to be too big of a risk, against the backdrop of the uncertainty brought by the pandemic.
"Right now, we have a cost-base that we understand and augmenting this with new technology needs careful consideration. We need to know that we are going to get an improvement in either operation efficiency or reduced cost before we can consider it. We're certainly not averse to technology but currently we have a very pragmatic approach and laser focus on cost. That said, while we are fixated on managing operating costs, investment in capital projects that will generate revenue or further reduce costs are being prioritised."
He adds: "There's also a delicate balance between automation and the human touch. Full automation also potentially means depersonalising the experience and this is something the industry has been grappling with for a long time. Human contact, especially from customers who need support from an accessibility point of view, is an expectation when travelling. Some robotics and technology can do that, but a lot of people do want to interact with humans. Also, I think in the terminal environment, we will see additional premiumisation happening, so people can pay for premium experiences and COVID-19 will likely bring this trend to the fore even more."