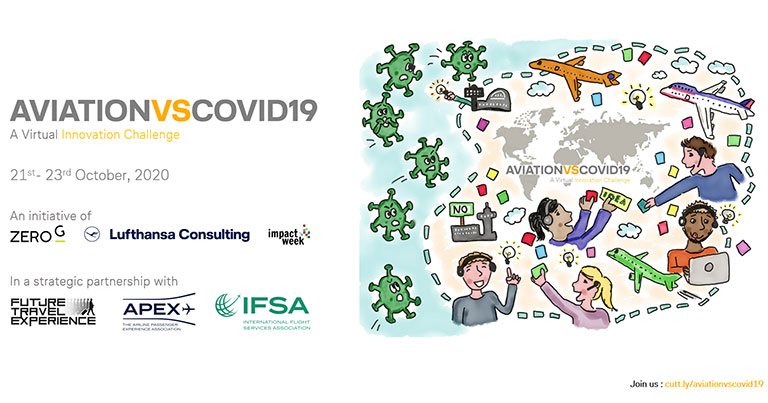 Future Travel Experience (FTE) is proud to be a Strategic Partner of the AVIATIONVSCOVID19 Virtual Innovation Challenge, a first-of-its-kind global challenge organised by zeroG and Lufthansa Consulting in collaboration with Impact Week. The Airline Passenger Experience Association (APEX) and International Flight Services Association (IFSA) are also supporting the initiative as Strategic Partners.
This 60-hour innovation challenge aims to bring together aviation enthusiasts, students, aviation industry executives and employees from related industries in a virtual setting to collaborate in trans-disciplinary teams and re-imagine the future of the air travel experience during and post COVID-19 using Design Thinking and user-centric design toolkits. The winning teams will be invited to present their ideas at FTE APEX Virtual Expo, the air transport industry's first major digital trade show, which will take place on 8-9 December.
The application deadline is on 14 October, so act fast if you would like to be involved! You can learn more and apply here.
During 2.5 days on 21-23 October, participating teams will be challenged to come up with solutions for three different phases in the air travel journey – pre-flight, in-flight and post-flight.
Each team will consist of five to six trans-disciplinary participants. The teams will work virtually using digital collaboration tools and apply a Design Thinking framework to come up with user-centric solutions and innovative ideas to tackle those challenges. Each team will be facilitated by a pair of Impact Week's Design Thinking/Innovation experts and domain experts/consultants from zeroG and Lufthansa Consulting.
At the end of the challenge each team will present their solutions to a jury panel that comprises senior management from leading aviation organisations from around the world. The winning teams will receive further mentorship from zeroG and Lufthansa Consulting to refine their solutions as well as have an opportunity to present their ideas at FTE APEX Virtual Expo, taking place on 8-9 December 2020.
Interested in participating? Learn more and apply here.
This is a call to action for every aviation enthusiast or aviation professional around the globe. Let us join our hands as an industry to bring confidence back to people across the world to hop on a plane and fly again!
How can you participate?
Participation in the AVIATIONVSCOVID19 Virtual Innovation Challenge is FREE but there are limited places available. Only eight teams will have the chance to participate in this challenge – a maximum of 50 participants. Thus, we only encourage you to apply if you can fully devote 2.5 days of your time to the challenge.
Also, you need to fulfil the following requirements to participate:
You are currently working for an airline or aviation-related company, pursuing a Masters/MBA/PhD degree, or are a young professional/entrepreneur with a strong affinity towards the air travel industry
You must devote your full time virtually for 2.5 days while participating in the challenge (circa 8 hours per full day)
You must be fluent in English
You must have a strong Internet connection which can be accessed with a laptop or PC
Selected participants will be allocated by the organisers to a team based on their background and interest in tackling the challenge for pre-flight, in-flight and post-flight.