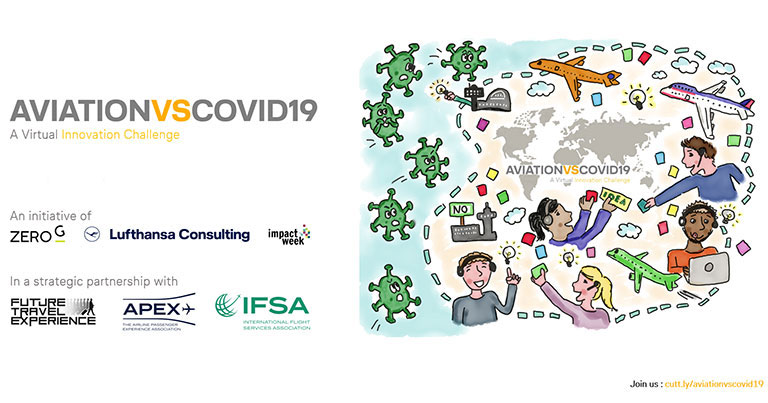 Future Travel Experience (FTE), the Airline Passenger Experience Association (APEX) and the International Flight Services Association (IFSA) are proud to be Strategic Partners of the AVIATIONVSCOVID19 Virtual Innovation Challenge, a first-of-its-kind global challenge organised by zeroG and Lufthansa Consulting in collaboration with Impact Week. This 60-hour innovation challenge brought together 55 aviation enthusiasts and professionals from around the world (19 countries representing 38 companies) in a virtual setting to collaborate in trans-disciplinary teams and re-imagine the future of the air travel experience during and post COVID-19 using Design Thinking and user-centric design toolkits. The amazing ideas from the top three winning teams will be shared in our OnDemand Speaker Zone at FTE APEX Virtual Expo, co-located with IFSA Onboard Hospitality Virtual Expo.
---
Team COVIDbusters with "smart.ie"
Coaches: Anja Rother, Sebastian Kaiser
Team members: Tim Hoff, Maria Wilvenna Añora, Stefan Widauer, Patricia Guedes da Silva, Saloni Verma, Yaser Farhood
The Smart.ie platform inspires and encourages you to book flights to destinations where you can go even though travel restrictions exist based on AI search and your personal preferences. Countries and cities are categorised based on a traffic light system and the platform informs you about individual necessary docs, provides notifications and updates in case of changes during your journey, offers alternative destinations, and ensures your vacation can take place.
---
Team The Arrivals with "ABC – Arrival Baggage Concierge"
Coaches: Aga Szosték, Laura Ihrlich
Participants: Raphael Grugl, Steve Tarbuck, Yan Ching Wan, Reema Kandil, Giselle Laronde West, Tess Guerrero
Imagine you have an app that gives you choice on the delivery of your bag: when, where, and how. And you receive notifications from same app along your entire journey. You are happy because you are concerned about the crowds waiting at the baggage claim, and the risk of getting infected standing there. You want to avoid that. You are now able to avoid that risk, because you have choice!
---
Team Inflight Insomniacs with "Flight Buddy"
Coaches: Aaron Kearney, Jens Wagner
Participants: Jeswin Varghese, Abhay Mohan, Julia Doll, Lucien Hamze, Azman Ahmed, Pauline Küssner
The aviation industry is in a crisis. The COVID-19 pandemic has resulted in a monumental decline in passenger numbers and the industry is fighting for its future. The idea of being in an enclosed space and being in close contact with strangers has induced fears in people's minds. These fears need to be alleviated and confidence regained if the industry is to survive. Flight Buddy is the solution.
Don't forgot to register for your pass to attend FTE APEX Virtual Expo and IFSA Onboard Hospitality Virtual Expo. Register online here >>