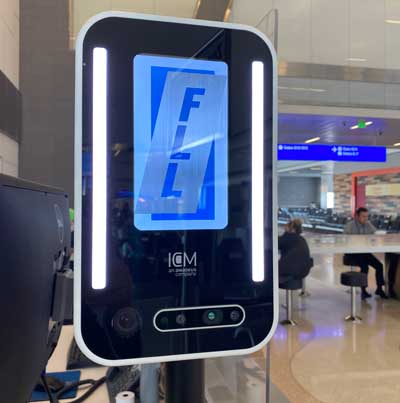 Fort Lauderdale Hollywood International Airport (FLL) has partnered with Amadeus to facilitate biometric boarding of flights for all international departures.
The upgrade delivers a touchless boarding experience, while complying with U.S. Customs & Border Protection (CBP) requirements for all international travellers to biometrically validate they have departed the country.
Using facial recognition technology, travellers departing from Fort Lauderdale can now scan their face instead of scanning a boarding pass.
Spirit Airlines is the first carrier at FLL to start boarding its international flights using the touchless procedures. Passengers are verified to depart when they step in front of one of new 'Biopods' from ICM Airport Technics, an Amadeus company, installed at 14 of Spirit's traditional departure gates in Terminal 4.
Spirit Vice President of Airport Services Mike Byrom, who will be participating at FTE APEX Virtual Expo, 8-9 December, said: "Spirit is rolling out reduced-contact experiences for guests across the country, and the work we're doing with Amadeus in Fort Lauderdale is a great example of that. Biometric technology will let us make the trip from curb to gate faster and easier, and it's part of what we call the 'Airport of the Future'."
Each Biopod has a high-resolution 3D camera and secure encrypted connectivity to the CBP Traveler Verification System (TVS), where the image captured at the boarding gate is matched against the images stored by the CBP. According to Amadeus, the service complies with privacy regulations as no personal biometric data is stored by Spirit, the airport, other airlines or Amadeus.
When passengers are successfully verified, a unique, tokenised identity representing that specific traveller is generated and the airline is alerted to the fact that the passenger is boarding the plane and their seat.
"If they wish, international departing passengers from Fort Lauderdale can now choose a completely automated and technology-enabled experience during boarding, without the need to interact with an agent," said Mark Gale, CEO/Director of Aviation, FLL.
"Amadeus Airport Biometric Solutions are the glue that brings our various biometric hardware devices together with the CBP's TVS and importantly the different airline systems," he added.