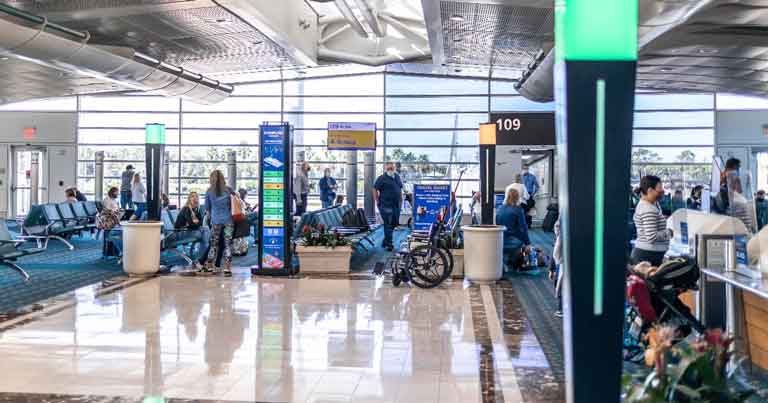 Orlando International Airport has announced that it is participating in a pilot programme to monitor crowd density within the airport.
Greater Orlando Aviation Authority (GOAA) is collaborating with Synect to install an Evenflow Crowd Radar system that measures the number of people at the gate areas and delivers the information via digital signs and custom lights throughout the facility.
Variable light intensity and colour-coded messaging provides travellers real-time data so they can make decisions on when to proceed to their gate, where to sit and how to maintain social distancing while transiting the airport.
"While we are encouraged by increasing passenger traffic, we know the responsibility to maintain our guests' well-being increases as well," said Phil Brown, Greater Orlando Aviation Authority CEO. "This new system will hopefully help passengers make informed decisions and reduce the anxiety that accompanies travel during these challenging times."
Long term airport innovation partner Synect has created Evenflow Crowd Radar to empower passengers with information, increase passenger confidence and decrease passenger anxiety.
"Evenflow Crowd Radar uses behavioural science to make the airport safer for passengers, employees, and the public," Yahav Ran, CEO of Synect, said. "We're proud to be working with the Greater Orlando Aviation Authority and a team of leading scientists to demonstrate how visual communication drives compliance and promotes healthier passenger behaviour."
The system became operational on November 20, 2020 and is being tested at gates 101-109. The pilot period will last for several months, after which the data will be analysed and GOAA will evaluate whether to deploy the technology airport-wide.