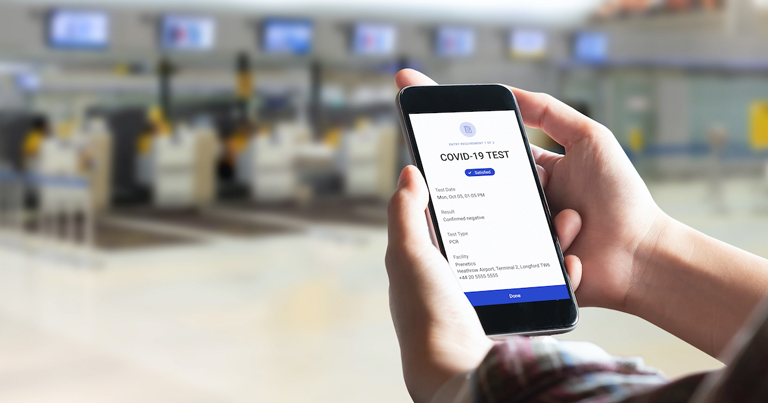 Digital health passports are a hot topic in the air transport industry right now. As we've seen in the past few months, the technology is considered to have real potential to help drive the industry recovery from the crisis. Many countries currently require COVID-19 test results on arrival, and it's likely that a COVID-19 vaccine confirmation will also be required soon.
Removing the need for paper-based documents, the mobile solution will allow passengers to verify their identity and prove their health status by storing results of COVID-19 tests, and eventually, digital vaccination records.
Several solutions have already entered the market from various suppliers, including AOKpass, CommonPass, IATA Travel Pass, Daon's VeriFLY, the UK-based V-Health Passport, YOTI, Mvine-iProov passport, CLEAR Health Pass and IBM Digital Health Pass, just to name a few. In the past few months we have also seen a number of airlines – including British Airways, Singapore Airlines, Qatar Airways, United, Emirates, Copa Airlines and Etihad – announce trials of the technology, with some even trialling more than one solution from different providers simultaneously.
So, this week FTE tuned in to a virtual broadcast, hosted by Plug & Play, during which a panel of industry leaders from the Transportation Security Administration (TSA), the International Air Transport Association (IATA), Virgin Atlantic, the European Parliament, Corporacion America Uruguay, Vienna International Airport, Star Alliance and Denver International Airport, discussed the main challenges surrounding the rollout of the technology. Here we share some of the key takeaways:
The importance of interoperability
While trials of the technology are progressing, it's becoming evident that there won't be one single, globally recognised solution that could work universally across the entire travel industry and beyond. This then raises some concerns around the interoperability of such solutions, which was a leading topic during the webinar.
Stacey Fitzmaurice, Executive Assistant Administrator, Operations Support, TSA, explained: "The solution must be versatile. We cannot walk users into an application that only works within a very specific set of circumstances. As a member of the travelling public and a potential user, I'd like to use my digital wellness passport wherever I go, regardless of my phone manufacturer, operating system, COVID testing facility, vaccine type, airline or in-destination. I want to be able to use it broadly between states and international borders and across many use cases, not limited to commercial aviation."
Star Alliance's Director, Digital & Technology Services, Jeremy Drury, also agreed that as the industry goes through the next stages of the development of the technology, concerns around the interoperability of the solutions will have to be addressed quickly. "Airlines are using different solutions, but from a customer perspective, we need to get to the point where we give customers choice and that choice can be used anywhere within the airline network. The choice of health wallet should become irrelevant, so that passengers can use their health wallet and their health credentials anywhere throughout the system," he said.
Echoing these comments, Cláudia Monteiro De Aguiar, Transport and Tourism Committee, European Parliament, added that we need a solution that could be put in place to help not only the aviation industry, but also the whole travel chain and beyond. "This is the moment to discuss and understand how we can implement this with data protection and privacy, how the certificate will gain form, which systems will work and especially how we can handle this in the different transport sectors ­– in airports, ports, rail. We don't want to leave anyone behind."
There's an urgent need to set common standards
This brings the urgent need for standardisation to the epicentre of the discussion. Without establishing a set of industry-wide standards, the use of different digital health solutions could create a fragmented system, which, in turn, would further complicate the passenger experience.
What makes it even more complex is that there are different elements to the health passport concept that would need to be standardised. One such area, for instance, would be around establishing a universal directory of the latest travel restrictions and laboratories. IATA's Timatic system already achieves that, but different solutions will have different points of reference when it comes to travel restrictions and labs. So how would airlines ensure that passengers are compliant with border rules and regulations, without limiting the choice of labs they could go to or the choice of digital health passports they could use?
These are just some of the questions that a new coalition formed this week with the participation of Airports Council International (ACI), Mastercard, IBM, the International Chamber of Commerce (ICC), as well as several health passport developers and other digital ID security stakeholders, is hoping to address. The open, inclusive, cross-sector initiative, called the Good Health Pass, is intended to provide a blueprint for digital health pass systems and to ensure that solutions are designed to be interoperable, both with one another and across institutional and geographic borders.
During the Plug & Play webinar, Frédéric Léger, Director Airport, Passenger, Cargo and Security Products, International Air Transport Association (IATA), also said that the organisation is already working with regulators to establish the best course of action to set common standards. He explained: "We're working on offering the solution to the industry, based on global registry of requirements and also a global registry of labs, because governments are mandating passengers to use some labs, while some airlines are listing the labs they want the passengers to go to. We also need to connect all those labs so that they are in position to share those health credentials in a secure manner."
Data minimalisation key to privacy concerns
Indeed, another challenge is implementing the digital health credentials in a secure way in order to protect passenger privacy. Most of the aforementioned solutions have a privacy-by-design approach, but again standardisation is crucial to ensuring that the identity verification is secure at all points of the process.
TSA's Fitzmaurice stressed that the public must be reassured that their personal identification and health information is protected and used for the intended purpose. "I believe a digital health passport should be able to provide information pertinent to a specific use case. For example, a TSA officer at a checkpoint doesn't need your home address, but they do need to know you are who you say you are, and that you have a valid reservation to fly that day. Data minimalisation is key to ensuring necessary information is provided about an individual while also respecting their privacy and civil liberties."
Chris McLaughlin, Chief Operating Officer, Denver International Airport, also commented: "The industry has to compete, but it also has to complement each other and that complement has a lot to do with interoperability and we should seek that. However, we shouldn't wait till we get there. From a US perspective, we have been talking about Real ID for 15 years or more. Having a standard and seeking pure interoperability is a great thing to strive for, but we can't wait for it to happen. We have to take steps and actions now, while we strive for the best solution in the long-term."
Without digital health passports it would be impossible to scale operations
While many airlines are already testing the technology, Virgin Atlantic's Chief Customer & Operating Officer, Corneel Koster, said that the airline is taking a "wait and see approach". He explained: "As part of our 'Fly safe, fly well' programme, Virgin Atlantic was one of the first to implement an on-site COVID-19 testing. But in terms of digital health passports, we haven't taken a step forward. We have been talking to a lot of companies and we have had some very good conversations."
Koster also shared that currently the transaction times for checking all necessary health certificates and locator forms for all customers have gone up three to four times, compared to pre-COVID-19 times. This highlights a fundamental issue with restarting travel without being able to rely on such digital solutions in place. "If we maintain that way, we won't be able to resume aviation and scale, and we won't be able to deliver the economic contribution that aviation generates," he said.
Digital health passports can certainly be one of the answers to restarting travel and helping people safely return to some sort of normality. However, the full rollout and the seamless integration of the technology will depend largely on the rapid implementation of global standards, and the reality is that governments and legislators might take a long time to put the right standards in place. Until then, collaboration and cooperation between industry stakeholders and government bodies, and providing scientific evidence to back the case for a widespread rollout of digital health passports, will be crucial.