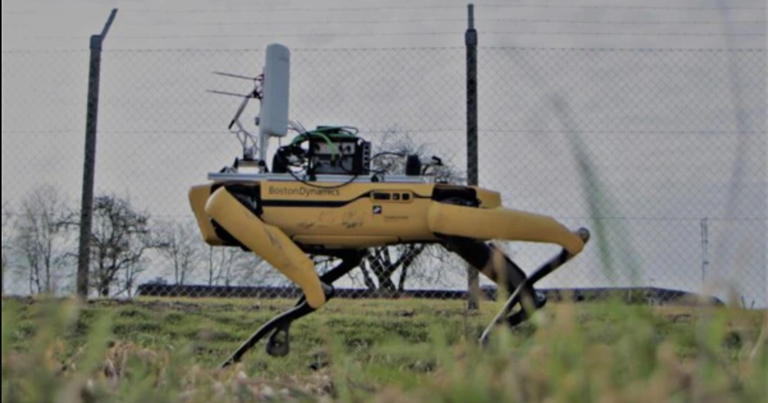 Hans Christian Andersen Airport recently completed a successful trial of a 5G robot for perimeter-fencing security checks.
The robot was connected to TDC NET's Ericsson-powered 5G, trialled in partnership with the Danish Technological Institute.
The partnership focused on how to connect Spot – the Institute's four-legged mobile robot developed by robotic company Boston Dynamics – on TDC NET's national commercial 5G network.
Spot had previously only performed tasks for the institute using Wi-Fi with limited connectivity range and the robot's operator had to be within 30 meters.
By connecting Spot to TDC's commercial 5G network, the partners created new use case possibilities for the robot. The fast speed, high bandwidth and extremely low latency of 5G provides the tools to send huge amounts of data securely from the robot across the network and back in real-time over large distances.
Complete with 360 sensors, front and rear cameras and space for carrying packages and supplies, robots such as Spot could operate in the field as part of emergency response, rescue or industrial inspection missions.
Utilising the technology, Hans Christian Andersen Airport and Lorenz Technology teamed up to perform perimeter-fencing security checks as a first test case.
Airports, ports and many construction sites require several perimeter-fencing checks every day to comply with security and safety directives. Current methods usually involve employees patrolling the perimeter to check for signs of damage.
In the 5G trial, deep learning methods were applied so that Spot could examine the perimeter for signs of damage in real-time. Spot navigated the fencing via TDC NET's Ericsson-powered 5G network.
The development of robot technology for fence inspection was supported by the Danish Agency for Education and Research under the Ministry of Education and Research.
The trial, which concluded at the end of February, confirmed that Spot can be deployed for use cases beyond Wi-Fi and across a wide area via mobile networks. The successful trial gives the green light to innovate new use cases around monitoring, image recognition and video analytics autonomous operations for Spot.
Thomas Høiberg Giselsson, Senior Specialist, Danish Technological Institute, says: "If you want real-time analyses, it is necessary to be able to process data directly on Spot or to be able to efficiently transfer data to a suitable device. Our test showed that by connecting Spot to 5G we have an opportunity to conduct real-time analysis."
Toke Binzer, Vice President, TDC NET, says: "The Spot collaboration with the Danish Technological Institute is a great and very concrete example of the possibilities our nationwide 5G network brings. By connecting the well-known technologies such as drones and mobile robots to the faster network, they are able to solve new, more demanding tasks and thus deliver increased value. We are still early in the development, but based on the partnerships we drive together with Ericsson through our joint Innovation Hub, we are well on our way to realising the potential of 5G."
Niclas Backlund, Head of Ericsson Denmark, says: "Industries and enterprises globally are becoming increasingly engaged with the huge benefits that 5G will bring to their indoor production and operations. What this exciting initiative with TDC, the Danish Technological Institute, Hans Christian Anderson Airport and Lorenz Technology highlighted is the power of commercial national 5G networks to transform business and society."