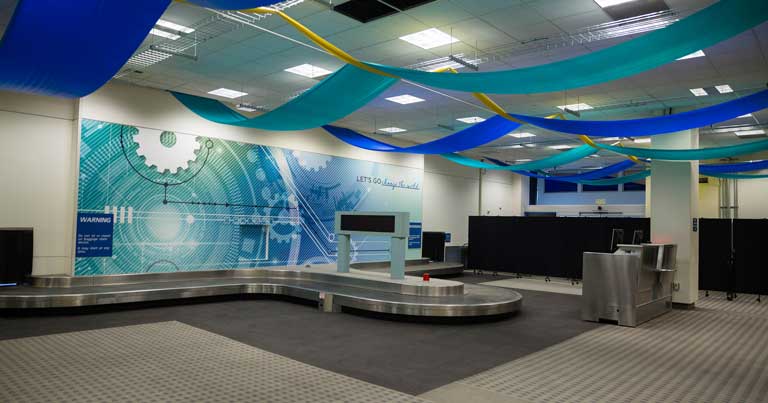 San Diego International Airport's (SAN) Innovation Lab has announced the launch of a one-year programme, focusing on autonomous technology that enhances airport functions such as airside operations, terminal space operations, or intra-transit options.
The programme will allow companies with autonomous technology solutions to test and refine their products in a live environment.
The airport has stated that it will accept applications for solutions that have the potential to offer operational efficiency and logistics, and provide a positive passengers experience. Examples of technology accepted to the programme include autonomous pushback solutions, AI-based smart assistants, and autonomous transit options for moving passengers and staff throughout the airport within the terminal space.
Accepted applicants will participate in a four-quarter, one-year programme and in each three-month quarter, participants will partake in a variety of workshops, testing sprints, and one-on-one mentoring sessions that will culminate with demo-day presentations. Topics of the workshops include operations, revenue management, business development, IT/Technology, customer experience, and marketing.
At the end of the programme, successful autonomous technology solutions will have the potential to enter into contract negotiations with the airport's owner and operator, San Diego County Regional Airport Authority. Participants will also potentially gain entry to other airports and analogous businesses including other transportation hubs, convention centres, shopping malls, and other large venues such as ballparks, theme parks and hotels.
"Investments in autonomous solutions have grown by more than $7 billion since 2010 and national passenger surveys indicate a significant need for process automation at airports," said Gina Jacobs, Program Manager, Airport Innovation and Customer Experience. "We know there is significant interest in automation at airports around the country. Our one-year programme will offer developers a chance to prepare their solutions to be competitive in the US marketplace."
The programme will initially take place in a virtual format until COVID-19 restrictions are eased. To apply for the programme, applicants will need an existing prototype that can be tested in a real-life airport environment and that is new to U.S. airports or an extension of an existing service or product to be tested at SAN.
The Airport Innovation Lab also operates a 16-week accelerator programme that was launched in 2016 to reduce barriers for innovators to break into the aviation industry. The accelerator conducts testing and product development in a 3,500 square-foot former Commuter Terminal at SAN, offering a functional mini-terminal area with ticket counters and a bag claim carousel, all without passengers or security concerns.