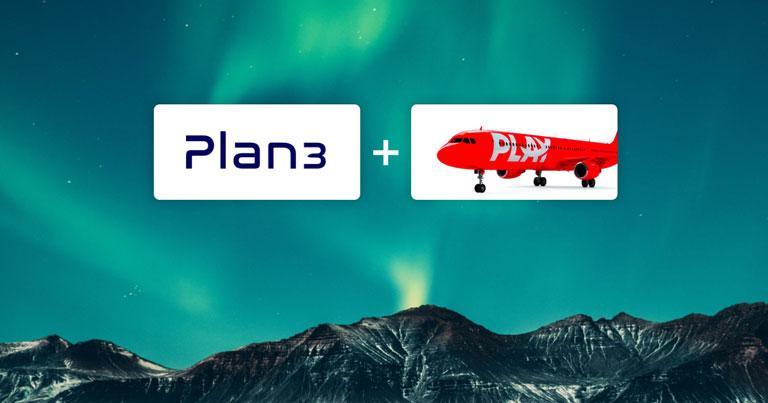 Icelandic startup airline PLAY has announced that it will be adopting a new passenger disruption tool, developed by software company Plan3, an exhibitor at next week's FTE APEX Virtual Expo (25-26 May).
The new low-cost carrier has just launched several European routes and will eventually connect Europe and North America via its hub in Keflavik Airport. PLAY will be leaning on Plan3's system to manage passenger disruptions, delivering an enhanced passenger experience to customers in the eye of disruption events, such as volcanic eruptions, which can be common in Iceland.
PLAY's Service Director, Hildur Haarde, said: "At PLAY we are entirely focused on creating an exceptional customer experience for our passengers from start to finish. When operations go wrong, as they do from time to time, we want to be best positioned to help our customers ensure they have a seamless and stress-free onward journey – that is why we are so thrilled to be partnering with the team at Plan3."
PLAY will utilise the Plan3 tool to visualise flight schedule activity and, when disruption occurs, to communicate with disrupted customers, presenting relevant option packages such as new flights, hotel accommodation, ground transportation and digital vouchers – all the components that best serve the customer's needs at a moment of potential distress.
"PLAY are bringing a remarkable product to the market with an incredible team, building upon a consumer appetite proven during the days of WOW Air," said Plan3 Chief Commercial Officer Simon Dempsey, who will be moderating a session titled "Digital innovation to drive transformation across an organisation, and to better support passengers in the post-COVID-19 world" at Virtual Expo next week.
"We are thrilled to partner with PLAY to ensure when disruption strikes at any airport on PLAY's network, their ops team is equipped with the tools required to enable passengers to self-serve their way out of any disruption event, all from a single screen."
This week, the startup carrier also announced its inaugural route, which will connect Keflavik with London Stansted from 23 June using Airbus A321neo aircraft. From 28 June, PLAY plans to serve Tenerife South before adding Alicante on 12 July and Barcelona on 15 July. Additionally, the carrier will also serve Berlin from 1 July, Paris Charles de Gaulle from 14, and Copenhagen from 21 July.
Birgir Jonsson, CEO, PLAY will take part in a dedicated New Airlines C-Suite Summit, which will be broadcast live on 25 May, as part of FTE APEX Virtual Expo 2021. Jonsson will be joined by CEOs of new market entrants Ava Airways, EGO Airways and Pop. The session will be expertly moderated by Aaron Heslehurst, News Anchor & Presenter, BBC World News. Meanwhile, Plan3's Chief Commercial Officer Simon Dempsey will moderate a panel of industry experts from Star Alliance, Malaysia Airports and spiceJet to assess how digital innovation can drive transformation across an organisation, and better support passengers in the post-COVID-19 world.