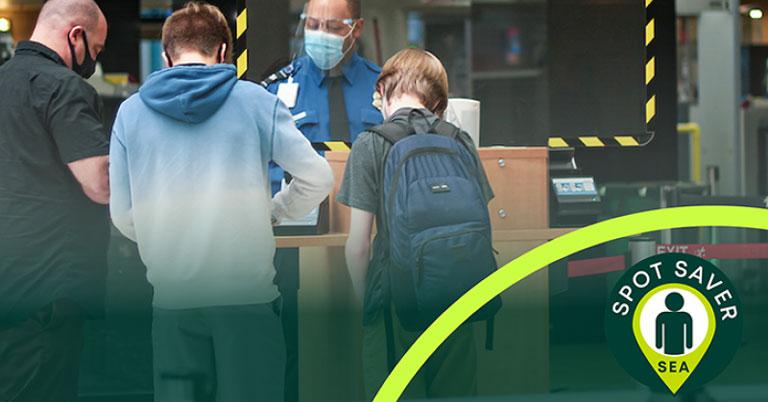 Two pilot programmes are currently underway at Seattle-Tacoma International Airport (SEA) to modernise the passenger experience with virtual queueing for security screening and touchless check-in and bag drop-off kiosks.
SEA has become one of the first airports in the US to trial a virtual queuing system as a solution for crowded general screening lines. Called SEA Spot Saver, the free digital reservation-based system for the US Transportation Security Administration (TSA) aims to reduce wait times and crowding to better maintain physical distancing.
"We can use technology to make the travel experience more streamlined and intuitive," said Port of Seattle Commissioner Sam Cho. "Touchless solutions reduce stress for those travelling today, but are the kind of innovations that will make the airport safer and more efficient for years to come. We appreciate the partnership of passengers and airlines to help test these programmes for the benefit of our community."
The first trial of the SEA Spot Saver is designed for Alaska Airlines passengers at TSA Checkpoint 5 with Pangiam, and powered by Whyline and Copenhagen Optimization. The second trial, designed by VHT, is available to Delta Air Lines and all other passengers at TSA Checkpoint 2.
Charu Jain, Senior Vice President of Merchandising and Innovation, Alaska Airlines, commented: "These are the innovations and ideas that we love to make our guest experiences more convenient and stress-free, especially as more people get back flying again. With very little effort, guests can lean on technology to get them through the security process quicker."
Helda Durham, Delta's Director of Airport Customer Service in SEA, added: "Our vision for the future of travel is aimed at creating a more seamless, less stressful experience for all. The SEA Spot Saver pilot does just that for Seattle customers, which is why we are excited to support our great partners at Port of Seattle and the TSA in their efforts."
Following the pilot completion later this summer, SEA will evaluate usage with passengers, customer feedback, and increases to line efficiency. If successful, the airport hopes to launch a broader programme as it continues to use staffing and technology to make the security checkpoint experience as efficient as possible.
Moreover, SEA is evaluating a touchless technology with happyhover™ – where fingers are detected above an electronic screen – on common-use check-in kiosks available to various airline passengers, including JetBlue, Spirit Airlines, Korean Air, Volaris, Air Canada, and Frontier. With this pilot programme, hardware is mounted discreetly onto the top of the kiosk and creates an infrared sheet of light. The technology emulates a touch interface in mid-air so that the touchscreen responds when the light is broken. This removes the need for travellers to touch surfaces during the check-in process.
Dave Wilson, Director, Airport Innovation, Port of Seattle, will deliver an exclusive presentation at FTE APEX Virtual Expo 2021 on how Seattle-Tacoma International Airport has looked across the industry, and beyond it, to shape its pandemic technology response. Find out more here and register today!