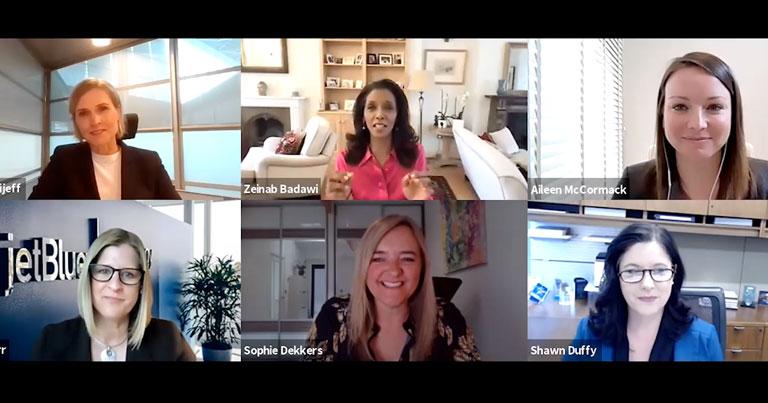 The first-ever FTE APEX Women in Aviation Leadership Summit, which took place during Virtual Expo 2021 (25-26 May), turned the spotlight on the increasingly important topics of gender diversity and equality in aviation. This candid session, sponsored by Viasat, brought together some of the industry's foremost leaders from Finavia, easyJet, JetBlue Technology Ventures, Viasat and CarTrawler to share their expertise, experiences and insights on the impact that female leaders are having on their organisations, the importance of equality in the workplace across the industry, and some of the new trends we can expect to see post-COVID-19.
Renowned BBC World News Presenter Zeinab Badawi, who chaired the discussion, opened by highlighting some striking figures when it comes to gender diversity in the aviation industry: women account for only 7% of pilots and an even smaller number of captains, 2.4% of mechanics, 3% of C-level positions, and 16% of airport managers. Meanwhile, 79% of flight attendants are women.
"Part of the challenge is the mindset that aviation could be an industry for females," said Sophie Dekkers, CCO, easyJet. "We did a survey amongst British school children and 51% have very clear views on male and female jobs. The majority of male pilots had decided that they want to be a pilot by the age of 10, while a very small minority of females have made that decision by the time they are 16. So, I think we have a grassroots issue around gender stereotyping of roles to even get women to think about a career in aviation. It's our role to get out there and share our experience."
Shawn Duffy, Senior Vice President & Chief Financial Officer, Viasat, echoed this sentiment, highlighting the importance of mentorship. "Younger girls and women need to see that they can have careers in this industry. Having events like this, helps younger leaders coming in to visualise themselves later on in these roles."
She added: "I really believe that we need to have that open door and having a safe space for conversation is really important."
Amy Burr, Managing Director, Operations & Partnerships, JetBlue Technology Ventures (JTV), then noted that advancing women leaders begins with the hiring process. "It's about bringing in a diverse candidate pool so that the full representation is there and then the right person would be hired. The biggest challenge in the aviation industry is about the opportunity, especially for promoting within, as many of these roles have been traditionally male-dominated."
In contrast, Ulla Lettijeff, SVP of Helsinki Airport and member of Finavia's Executive Group, shared some more positive statistics across Finavia, where 30% of all airport staff are female. However, she highlighted that this shift is a result of a lot of hard work, which doesn't happen overnight.
Closing the gender gap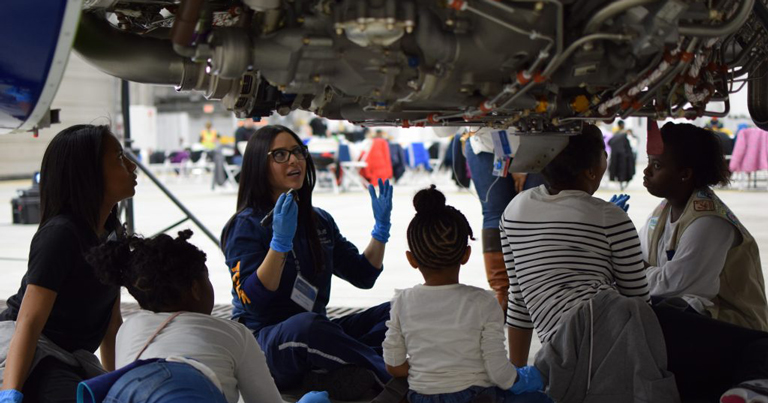 It was encouraging to hear that all five companies participating in the panel have brought forward initiatives to close the gender gap. For instance, easyJet has introduced projects including the Amy Johnson Flying Initiative, which aims to tackle industry-wide stereotypes and attract more female pilots, as well as a new badge for Brownies as part of a campaign to encourage girls aged seven to 10 to become pilots. "Our focus within the company is on how we can make sure women are supported," Dekkers adds. "We have specific programmes developed internally to give women the confidence to go for it, which involves female leaders talking about their journey. That dialogue is really important."
For Burr, who is on the board of directors for the JetBlue Foundation, promoting aviation-related education and STEM initiatives for students from diverse backgrounds is also a main priority. She explains: "The JetBlue Foundation's mandate is to increase the amount of STEM education and aviation careers within diverse backgrounds and especially underprivileged neighbourhoods and children. We hosted an event recently, which aimed to show girls all of the different roles within an airline and that there are senior roles in different areas of the business."
Focusing on maternity and childcare issues, Aileen McCormack, Chief Commercial Officer, CarTrawler, shared that the travel tech company strives to make it easier for young parents to achieve a better work-life balance, while still progressing with their careers. "We're also moving towards a hybrid working model, which has been a huge amount of work for me in the leadership team. We feel that this is really going to help us improve our gender balance and retain a lot of women."
Post-COVID-19 trends
Looking at the broader picture, the panel then focused on some of the trends that will come forward post-COVID-19. easyJet's Dekkers shares that she expects leisure travel to recover faster than business travel. "People are desperate to see each other face-to-face again. Demand will recover at different rates for different route types. There is pent-up demand for summer holidays. But it will take two or three years before the industry properly recovers."
Adding to this, Duffy shared that inflight connectivity will be vital to shaping the post-COVID-19 passenger experience. "Even though business travel is changing, connectivity is a tool that enables the experience to be different and it's really about how we enable that change." She continued: "We need to focus on what the industry would look like as we emerge from the pandemic. What would our customers and passengers need, as we come out of this? And that customer-centricity is another dimension that women can add great value to."
Burr shared some insight into the opportunities brought by the COVID-19 pandemic. She explained: "It has been a challenging time for everyone, but there are some opportunities that will come out of COVID-19 that will help get us closer to that ideal of the seamless customer journey. There's the opportunity to embrace some of the technologies that have been around for such a long time, but haven't been embraced by our industry, such as contactless technology, biometrics, mobile apps."
The pressing climate change issue was also a big topic during the discussion with all five industry leaders agreeing that sustainability is high on the agenda industry-wide. For JTV, for instance, sustainability is one of the company's five investment themes. Indeed, JetBlue Airways' venture capital arm has invested in a growing portfolio of sustainability startups including eVTOL aircraft manufacturer Joby Aviation and more recently Universal Hydrogen, which aims to make hydrogen-powered commercial flights a near-term reality.
easyJet's Dekkers highlighted that the airline automatically carbon offsets each passenger's flight. The low-cost carrier has also jointly studied hydrogen and electric propulsion with Airbus. "We've also launched a trial whereby our inflight magazine, including the bistro and boutique, has gone digital. If that's successful, it will save us 100 tonnes of paper a year. So, while developing longer-term initiatives, we should all be focusing on what we can do in the short-term as well."
From CarTrawler's perspective, McCormack shared that the company is working with its partners to introduce a "green-only funnel", whereby customers will be able to choose an electric vehicle for their car rental, transfer or ride. "It's really about letting customers know that there are options for them to be more sustainable and it's about how you communicate that to them."
Reducing emissions is also a big topic for Finavia, which achieved carbon neutrality at all its airports back in 2019. Lettijeff, however, recognises that this is a much wider topic that goes beyond just the airport. "I am happy that I work for the aviation industry, so that I can have direct influence on sustainability and make an impact," she stated.
The FTE APEX Virtual Expo 2021 platform will remain open as a resource until 25th June 2021, where Premium Pass holders can watch the full FTE APEX Women in Aviation Leadership Summit, as well as over 40 hours of inspirational content. A number of free-to-attend sessions are also available in the Expo Conference. The exhibition hall remains open and is free to access for all.
Enter the Virtual Expo platform – open until 25 June >>