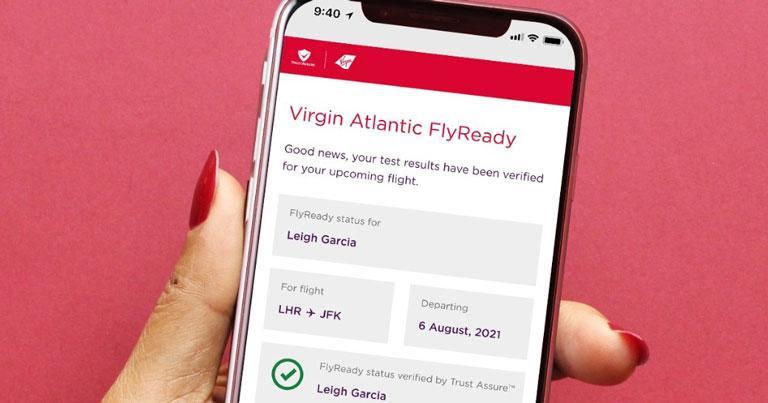 Virgin Atlantic and Delta Air Lines have introduced a new digital health credential solution, called FlyReady, for transatlantic flights.
Using the new tool, customers travelling between the UK and the US in either direction will be able to securely upload negative COVID-19 test certificates for upcoming flights.
The solution is designed to speed up the airport experience for customers, enabling them to upload and verify test results within the three days before departure and proceed smoothly through pre-flight checks with airline agents on the day of travel.
The launch version of the tool only supports COVID-19 test results as health credentials for travel, however, the airlines have also shared plans to incorporate vaccination status later this summer.
Allison Ausband, EVP & Chief Customer Experience Officer, Delta Air Lines, said: "Early in the pandemic, we realised that our customers would need a way to navigate the complex requirements of post-COVID international travel, so we began working with our partners at Virgin Atlantic to develop this solution. We are committed to making travel an enjoyable experience that we all cherish, and Delta FlyReady is an easy-to-use, reliable and effective capability that removes the guesswork for customers and our employees."
Corneel Koster, Chief Customer & Operating Officer, Virgin Atlantic, added: "Virgin Atlantic FlyReady will help to strengthen customers' confidence as they return to the skies with us, by making their transatlantic journeys as smooth and seamless as possible, while navigating new COVID-19 travel requirements in a convenient digital format. Our commitment is to ensure every single customer flies safe and well and we're delighted to be working closely with our partners Delta Air Lines and TrustAssure to launch this innovative integrated solution, which will be further developed to include vaccination status.
"With world-leading vaccination programmes in both the UK and US, there is a clear opportunity to safely open up travel between these two low-risk countries and allow vaccinated travellers to be free from testing and quarantine, consistent with the approach taken by the US and the EU. We urge the UK Government to move the US to the UK's 'Green list' and for the Biden administration to repeal the 212F proclamation for UK travellers. There is no reason to delay."
The news comes after the recent launch of the bilateral Atlantic Taskforce, which will focus on the reopening of travel between the UK and US, and recent reports that the UK government is considering lifting testing and quarantine requirements for fully vaccinated travellers returning from 'amber' countries.