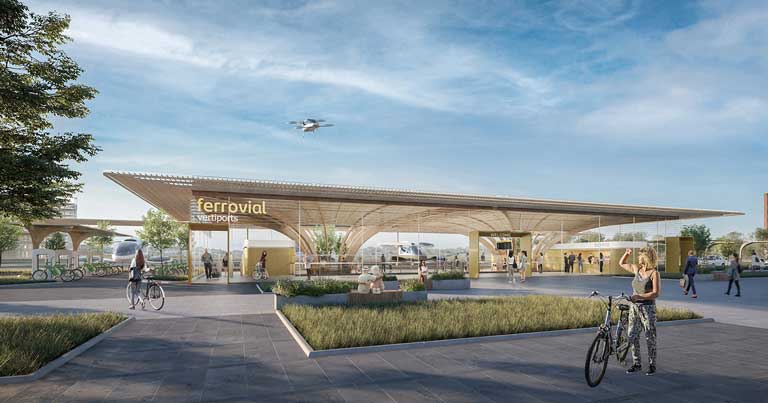 AGS Airports shareholder Ferrovial has announced plans to deploy a network of more than 25 vertiports in the UK. The company says that this initiative is another step in its bid to lead the mobility of the future through the development of infrastructure for safe, high-speed, zero carbon aviation.
Vertiports are essential to provide infrastructure for landing, recharging, and taking off passengers of all-electric, vertical take-off and landing (eVTOL) jet aircrafts, such as those being developed by Lilium and Vertical Aerospace.
To develop the design and engineering components of the vertiport infrastructure, Ferrovial has partnered with international architecture practice Grimshaw and global engineering, management and development consultancy Mott MacDonald.
"The partnership between vertiports and eVTOLs will provide high speed, affordable, emissions-free travel to millions of people. This network will boost local economies with a new model of regional connectivity," said Kevin Cox, CEO of Ferrovial Vertiports.
The news follows the recently announced agreement to develop a network of more than 10 vertiports in Florida, US.
During the inaugural Air MobilityX Summit, taking place at FTE Global 2021 on 7-9 December in Las Vegas, Ferrovial Airports' Sr. Vice President Corporate Development Joseph Alesia and Lilium's VP Business Development William Earle A'Hern will deliver a joint presentation on the significance of eVTOLs to the airport sector in the future. Find out more here.