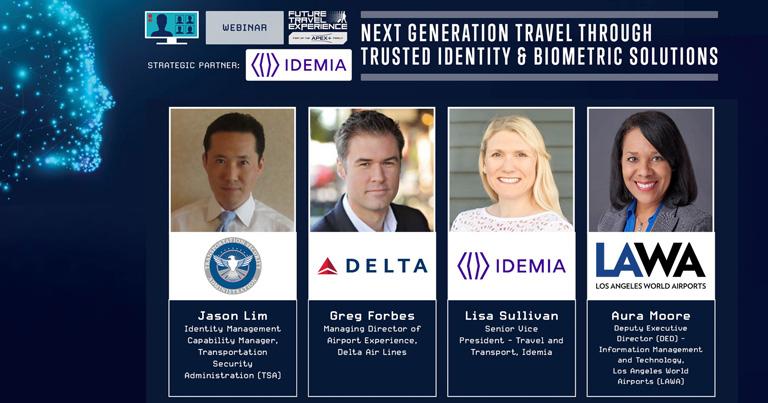 Last week, FTE hosted a virtual webinar in partnership with Idemia on 'Next Generation Travel through Trusted Identity & Biometric Solutions', providing an insight into the latest developments around biometrics technology. A panel of industry leaders from the Transportation Security Administration (TSA), Delta Air Lines, Los Angeles World Airports and Idemia, presented latest case studies and discussed the importance of collaboration to drive the advancement of the technology.
The full webinar recording is now available to watch here.
During his presentation, TSA's Identity Management Capability Manager Jason Lim announced that the agency will soon publish the TSA Identity Management Roadmap to serve as a guiding strategy to minimise risk and strengthen identity assurance and trust in credentialed workers and passengers.
Lim outlined four goals contained in the new Roadmap:
Enhance the credential holder and passenger experience during enrolment and travel reservation
Continue to expand and evolve standards for identity proofing to support future vetting and verification activities
Continue to evolve the vetting capability in response to new threats, policies and technologies
Support appropriate identity verification activities across TSA
Building on TSA's vision, Greg Forbes, Managing Director of Airport Experience, Delta Air Lines, presented the carrier's perspective on the topic and how it has worked with the TSA to create an industry-first digital identity experience. Forbes highlighted the airline's new express bag drop launched in Atlanta Airport in partnership with TSA PreCheck.
He shared: "Through the use of biometrics we are able to eliminate a lot of the steps at the traditional agent-assisted bag drop and the steps that remain are quick and effortless for the passenger." He highlighted some impressive results from the trials with the observed transaction time for the PreCheck Express Bag Drop facility approximately 25 seconds per customer, compared to 2.5 minutes per customer on agent-assisted bag drop.
Sharing the airport perspective was Aura Moore, Deputy Executive Director (DED) – Information Management and Technology, Los Angeles World Airports (LAWA), who discussed the importance of working collaboratively with airlines, vendors, and partners like the U.S. Customs and Border Protection (CBP) and TSA.
LAX started on its biometric journey back in 2017, and it was the first airport in North America to implement biometric gates. Moore shared that currently 27% of international airlines are boarding with the one-step recognition process. She continued "Our goal really is to have all airlines boarding using biometrics. We're working with the carriers to get them on board."
Idemia's Senior Vice President – Travel and Transport Lisa Sullivan then highlighted how the company is working towards making enrolment in programmes like the TSA PreCheck easier, and echoed the sentiment that collaboration has been key to driving biometrics efforts across US airports.
FTE also took the opportunity to announce that FTE Global 2022, which returns to Las Vegas on 6-9 September, will have a dedicated conference track on Identity, Biometrics & Security for the first time, where we will reveal the output of an exclusive new FTE Think Tank focusing on "Next Generation Aviation Security through the Passenger Journey" with confirmed participants including TSA and many more to be announced soon.
Register here to watch the full webinar recording on-demand >>