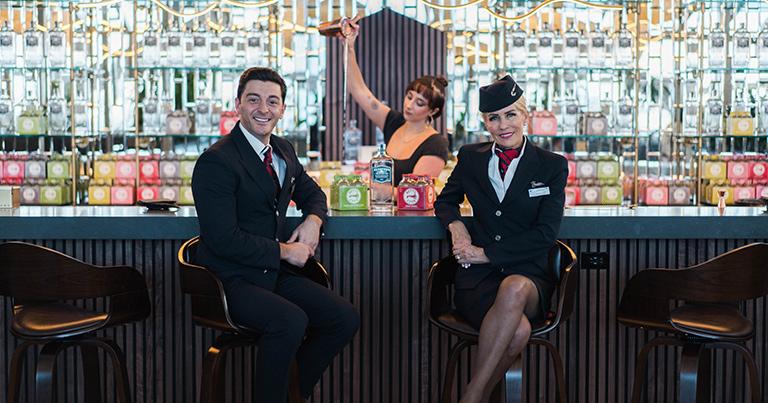 British Airways and American Airlines are further enhancing the passenger experience in the newly-renovated Terminal 8 at New York JFK Airport with the unveiling of the Bridge Bar in the Greenwich Lounge.
Featuring a variety of non-alcoholic and spirited cocktails, including Aviation American Gin and Betty Buzz, the premium bar will be part of the Greenwich Lounge experience, within the joint premium lounges offered by the two airline partners.
The new Bridge Bar is designed to celebrate the love of flying and offers customers a place to relax pre-flight. The cocktail menu features a variety of alcohol and non-alcoholic cocktails, including Aviation American Gin which infuses a blend of botanicals and is fronted by actor Ryan Reynolds; and Betty Buzz, a range of non-alcoholic sparkling mixers founded by actress Blake Lively.
"Following our recent investment in our new JFK lounges – Chelsea and Soho – we are excited to unveil a new experience in the Greenwich Lounge," said Calum Laming, Chief Customer Officer, British Airways. "With Betty Buzz and Aviation American Gin, we have created the perfect space for customers to relax pre-flight, offering a varied and delicious cocktail selection and flavours to suit every taste."
The guest journey through the Greenwich Lounge experience culminates in the Bridge Bar's open space that transports select customers to the 'Golden Age of Travel'. The space has been created to offer a rich and sophisticated take on mid-century modern design with a classic 1960s feel.
"We understand travellers are looking for a customised travel experience that starts on the ground and our joint premium lounges with British Airways give our customers the opportunity to do so," said Kim Cisek, Vice President of Customer Experience, American Airlines. "The opening of the Bridge Bar and Tasting Room is the latest piece of our premium lounge experience at JFK."