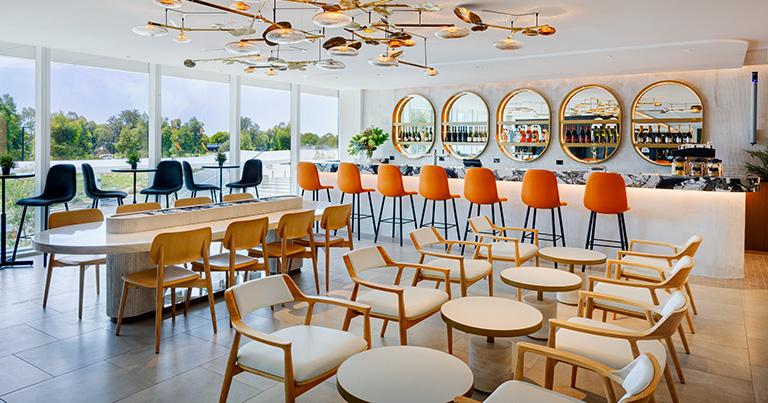 A new Plaza Premium Lounge has opened in international departures at Adelaide Airport. Spanning 532sqm, it can accommodate up to 137 passengers.
The bespoke design incorporates natural stone, marble, granite and travertine, timber, a raked render finish throughout, and a selection of contemporary feature lighting and furniture, all intended to create a sense of comfort for travellers.
"We're excited that for the first time, all our international departing and transit passengers have the option to relax in a wonderful premium lounge space before their flight," said Brenton Cox, Managing Director, Adelaide Airport. "This is one of the final pieces of our AU$200 million terminal expansion project that has also seen a significant upgrade of our international arrivals and departures facilities including expanded duty free, more room for immigration processing and more baggage belts for arriving passengers."
The lounge also presents an exciting new in-lounge experience – Plaza Premium Group's first specialty wine feature in collaboration with Accolade Wines, showcasing award-winning Australian wines.
Upon entering, guests travel through the wine corridor opening into the lounge space divided into multiple zones. Travellers can enjoy a cocktail at the bar, grab a bite in the dining area, or catch up on last-minute work or emails in one of the cosy booths. Showers are available to any guests who want to freshen up pre-flight.
With sustainability in mind, single-use plastics have been eliminated, the lighting scheme is comprised of 100% LED lighting, and the lounge is installed with energy-efficient appliances and water-saving devices.
"We are delighted to be the first and only international lounge at Adelaide Airport offering departing and transit passengers their own lounge to relax before flying just steps from departure gates," said Poh Kiat Lee, Regional General Manager, Oceania, Plaza Premium Group. "This is our fourth major city location in Australia, each lounge's design reflects the personality of its home city. We are excited to bring our exceptional hospitality to Adelaide, setting a new standard of offerings, welcoming guests to experience our award-winning service amongst local touches of South Australia."