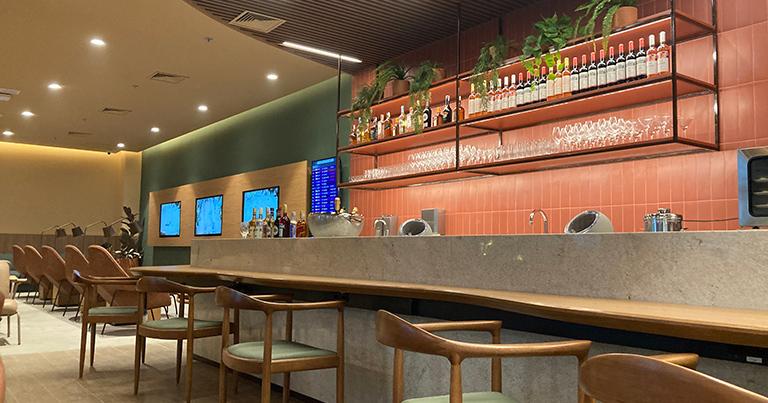 Airport Dimensions has opened a new airside AMBAAR Club lounge at Salgado Filho Porto Alegre International Airport (POA) in Brazil as part of its ongoing collaboration with AMBAAR Lounge. It is the second AMBAAR Club lounge to open at the airport and the first to open in the international terminal.
"Our partnership with AMBAAR continues to experience impressive growth," said Nancy Knipp, President Americas, Airport Dimensions. "The launch of this second lounge at Porto Alegre International Airport further validates the value our partnership brings to Brazilian airports. This new space is the first to offer a lounge amenity to international guests coming through the airport and comes at a perfect time as Brazil experiences a surge in international travel. Both we at Airport Dimensions and the team at AMBAAR pride ourselves on developing spaces true to their local environments, and this is exemplified yet again at this new space at Porto Alegre."
The new POA lounge spans 250sqm and can welcome 76 guests. Amenities include a TV area with chaise longues for guests to sit back and relax. The lounge utilises local materials for the design wherever possible and has been designed to reflect the culture of the region. With stone incorporated throughout, warm-toned walls, and locally-inspired furniture and décor, the space is intended to reflect "the sophistication and welcoming atmosphere for which Serra Gaúcha's country houses are famed".
A buffet offering fruits, cakes, breads, and more is available during breakfast. Passengers visiting later in the day for lunch or dinner will be able to enjoy a menu including local and finger foods.
The international lounge will be open 24 hours a day.
"The opening of a new VIP lounge at Porto Alegre Airport celebrates the partnership with AMBAAR Lounge and Airport Dimensions," said Rodrigo Sousa, Commercial Director, Fraport Brasil. "It is the second lounge that we offer to our passengers, demonstrating our commitment to offering differentiated and quality services."