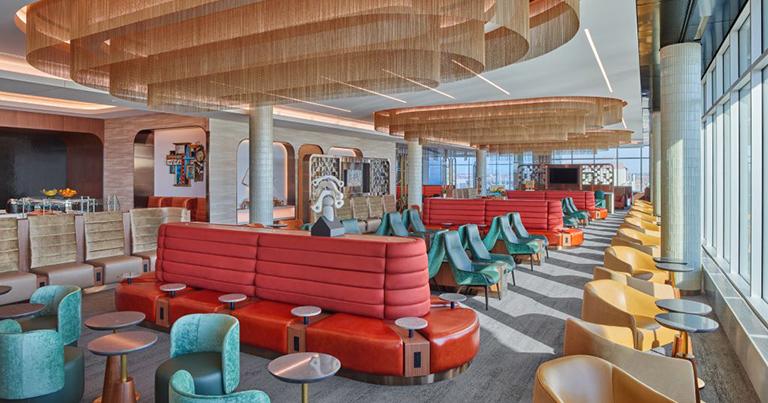 Delta Sky Club has opened a new nature-inspired lounge on the upper level of the recently-expanded G Concourse at Minneapolis-Saint Paul International Airport (MSP).
The airport's third Club adds more than 21,000 square feet of premium space to Delta's lounge portfolio, making it the largest at Delta's Minneapolis hub. The MSP-G Club is the second lounge opened this year, and the third successive new location in the Midwest, following Chicago and Kansas City.
With seating for more than 450, customers visiting MSP-G Club will have ample space whether they're looking to work, socialise or simply take in the views of the airfield.
"We continue to raise the bar with every location we open, and the new MSP Club is no exception," said Claude Roussel, Delta Sky Club – Managing Director. "Our goal was to create a space that reflects the natural beauty of the Great Lakes region, transporting and inspiring customers through the Club's design, all while delivering a full suite of amenities and our signature hospitality."
With a focus on sustainability, the Club is moving to over 90% waste diversion, meaning a large majority of Club waste is diverted from landfills via recycling or composting.
Inspired by Minnesota's designation as the "land of 10,000 lakes", the MSP-G Club's design concept features a rich colour palette, evoking summer sunsets at the lake – earth tones like sage greens paired with warm copper and amber hues. The Club includes a year-round, all-weather Sky Deck with seating for 110 guests. This is bookended by two completely open-air elements – one of which features a living plant wall, with seasonal foliage refreshed three times annually – and is suffused with natural light streaming from the overhead skylight. Guests unwinding in this space can also enjoy a drink from one of the Club's premium bars, located on the deck.