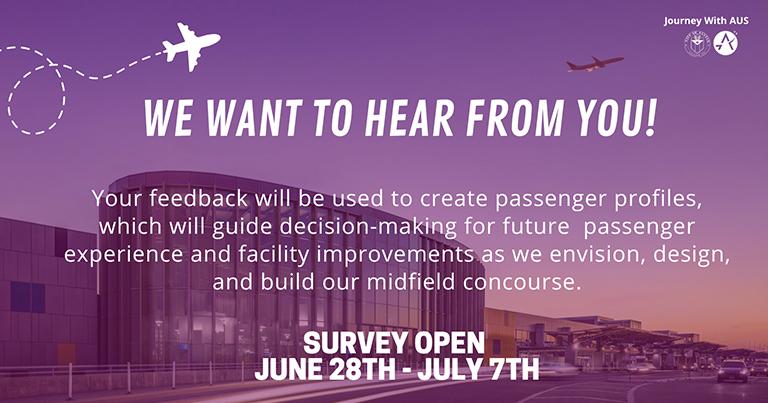 Austin-Bergstrom International Airport (AUS) is embarking on a new era of transformation through the 'Journey With AUS' airport expansion and development programme. 'Journey With AUS' projects will deliver improvements to not only address today's record-breaking number of travellers, but also prepare for future passenger growth in the decades to come.
AUS is committed to delivering an improved passenger experience by prioritising people-driven design. To achieve this, it is inviting travellers to take a survey that will help the multi-disciplinary teams working on the midfield concourse project. Survey responses will be used to create passenger profiles that capture the typical AUS traveller. These passenger profiles will help inform design standards, which will be used to design and eventually build the midfield concourse.
The midfield concourse is one of several 'Journey With AUS' projects that will support the rapidly growing airline activity and passenger volume growth. It is currently in the pre-design and envisioning stage of the project lifecycle. The midfield concourse will be constructed in the middle of the current airfield, connect to the Barbara Jordan Terminal by an underground tunnel, and be expandable for future growth. Timelines for design, construction and opening of the new concourse facility are still in development, as are project costs.
"We are committed to delivering an exceptional experience for every traveller, whether they are departing, arriving, or connecting through AUS," said Ghizlane Badawi, Chief Experience and Performance Officer. "Our goal is to prioritise passenger safety, while creating experiences that foster comfort, excitement, and confidence throughout their journey."