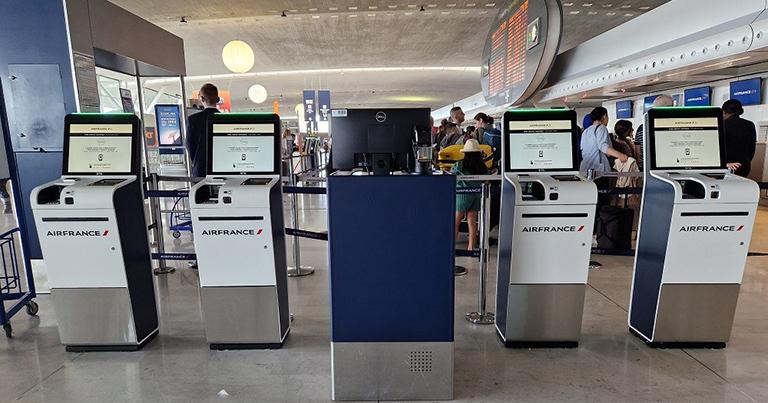 SITA is upgrading Air France-KLM Group's existing line-up of 400 self-service kiosks at Paris CDG Airport and Amsterdam Airport Schiphol, as well as other hub airports in Europe, delivering new functionalities for passengers such as contactless payments.
Kiosks are the cornerstone of Air France-KLM's self-service offering and key to digitalising the passenger experience. SITA's new TS6 kiosks are designed to offer improved payment features and a variety of advanced functionalities, including the capability to connect seamlessly with mobile devices.
"Today, our check-in kiosks across our hubs in Charles de Gaulle and Schiphol airports are a vital element of our self-service offering to our passengers," said Pierre-Olivier Bandet, EVP Information Systems, Air France-KLM. "To deliver this, we need a fleet of kiosks that are dependable, always available, and easy for passengers to use. SITA has delivered on all three."
The new kiosks are equipped with a payment service that uses Payment Card Industry (PCI) compliant chip and pin terminals to accept ancillary fees, including via contactless cards and smartphones. SITA's kiosk payment service adheres to EU PSD2 SCA law because it provides two-factor authentication.
Air France-KLM can customise the kiosks to its specific customer needs without introducing complexity and cost. Thanks to the TS6's modular design, the airline group can switch out and change individual components years later, ensuring the longevity of the kiosks, and making it easier for Air France-KLM to introduce new functionality, such as biometrics, in the future.
"With continued growth in passenger volumes, digitalising the passenger journey with new self-service options will be vital," said Sergio Colella, SITA President for Europe. "This will help streamline the flow of passengers through the airport and give travellers more control over their journey. I am pleased that we were able to deliver to Air France-KLM a solution that is scalable to meet their passenger demand."