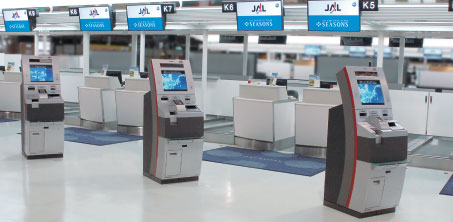 JAL helped find volunteers for the trials by contacting members of its frequent flyer programs. The aim was to evaluate the future model for passenger procedures in which airline check-in and boarding pass issuing procedures and government immigration control procedures are performed at the same time by utilizing information transmission technology and biometrics technology in airport passenger procedures. The JAL test was held in Terminal 2 at Tokyo Narita Airport.
JAL customers taking part were issued with a trial IC (Integrated Circuit) card containing the holder's passport data, biometrics data (such as fingerprints) and frequent flyer membership number, to use to check-in at a self-check-in machine and to verify their identify and receive a boarding pass at the same time when going through an automatic-gate in the immigration control area at Narita Airport.
The trials covered three types of biometric data – fingerprinting, retina recognition and facial recognition, and all were deemed by the ministries to be viable options.
Following the trials, automated gates were set up in the immigration control areas of Narita's Terminals 1 and 2 towards the end of last year by the MoJ – one in each terminal. "The availability of additional channels for passengers to use when they go through immigration should result in an overall reduction in the time required for this stage in the departure process. We expect overall passenger convenience at the airport to be elevated as result of this development," said Stephen Pearlman, JAL spokesperson. "JAL has been providing its support to the ministries involved in trialling this type of technology. If passenger convenience and security at the airport can be elevated by the introduction of this new form of immigration procedure then JAL welcomes it."
Paperless boarding
The JAL 'Touch and Go' Service is a key example of the innovation at JAL that is helping to simplify the passenger travel experience. Touch & Go was introduced in February 2005 at four major domestic airports in Japan: Haneda, Itami (Osaka), Shin Chitose (Sapporo) and Fukuoka. Now, JAL Touch and Go is available at 51 out of the 60 domestic airports the airline currently serves. It has installed some 500 plus IC readers at security check areas and boarding gates at these airports.
"The boarding system allows IC cardholders to board domestic Japan flights without a ticket or a boarding pass. The 'Touch & Go' service enables passengers to quickly and smoothly board their flight, with no need to queue at an airport check-in counter or to use a self check-in machine," said Pearlman.
Touch & Go passengers holding an IC credit card, IC mobile phone or IC JAL Mileage Bank (JMB) card can purchase their ticket via either the internet or telephone. From three days before their departure date up to one hour prior to flight departure, passengers can make a seat selection, change their seat selection and check-in for their flight using the JAL Touch & Go Service, accessible either via their computer or mobile phone. As all relevant data for the booking is recorded automatically on the IC card, on arrival at the airport passengers simply 'Touch & Go' their IC card at machines located in front of the airport security checkpoints and then at the boarding gate. Cards, mobile phones and JAL Mileage Bank cards with IC chips have a radio-frequency unit, and do not need to be inserted into a reader but can just be touched or swiped over a contact.
"Touch and Go was developed in-house for use on our Japan domestic routes. At present we do not plan to introduce this system internationally as there are many issues to overcome, as this technology is not common overseas," said Pearlman. "Of course, we can save the cost of terminals and tickets as the number of users increases. Also, this JAL Touch and Go is a ticketless system, so is environmentally friendly. It also brings work-savings at airports, as well as increasing passenger convenience."
The number of users of Touch & Go has been steadily increasing since introduction and already runs into the millions. Users tend to be individual business travelers.
"On Japan domestic routes, as the number of users of this technology increases the need for self-check in machines will invariably decrease, but for now SCM still have a vital to role to play at the airport," said Pearlman.
Reduced waiting times
As part of JAL's overall aim of reducing average passenger waiting times by approximately 50% during peak hours and improving the passenger's check-in experience, it recently revamped all of its check-in areas at Narita Airport, which included expanded use of self-check-in machines.
Plus in spring 2008, a new inline baggage screening system was introduced to Narita by the airport authorities. "Our passengers no longer have to wait for their luggage to go through a security inspection prior to checking in and are now able to proceed directly to the check-in counter," said Pearlman.