Lufthansa's newly upgraded RFID-capable check-in terminals, which enable customers to check-in with a machine-readable passport or ID card Europe-wide is one example of the trend towards moving the self-service boundaries forward.
The carrier is maintaining its strategy to offer streamlined methods of check-in, while at the same time recognizing its broad customer base, explained Aage Dünhaupt, Lufthansa's director of international communications.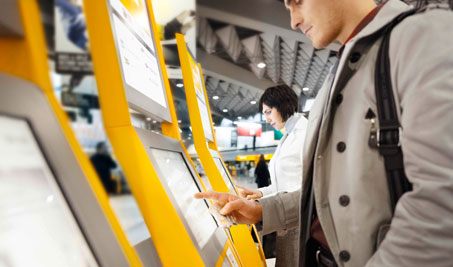 According to Dünhaupt, while the carrier has played an integral role in developing self-service innovations, the need to have a dedicated check-in desk is still important for network carriers. "We are the first airline in Europe to offer a ticket buying function and check-in combined through our own mobile web portal. On the one hand we are looking at bringing the complexity down for passengers who want to check-in quickly by using our mobile portal and for the other passengers, we are still offering a dedicated area," said Dünhaupt.
At many airports, Lufthansa enables first or business class passengers to check-in at a separate priority check-in counter. At the same time, the airline agent is being increasingly seen at the front of the terminal, rather than behind a desk. "We still have agents next to our new self-service kiosks to provide passenger assistance, saving the waiting line at a normal check-in counter," said Dünhaupt.
Cost saving potential
While the business models of network and low-cost carriers can be easily distinguished, their check-in strategies are converging where self-service technologies can offer passengers a faster means of checking-in compared with a manned agent. Jamie Cassidy, British Airways' general manager, product management, said: "While people use the kiosk as a traditional check-in desk, low-cost and legacy carriers will have a similar check-in strategy but for different reasons. Ryanair are selling on price whereas legacy airlines are selling on service and added value. For British Airways, at check-in it's more about getting people through a process as quickly as possible. At London Heathrow Terminal 5 we have a target of 80% self-service check-in, with check-in desks in the old format for first class passengers and check-in desks where self-service does not work and where ticket intervention is needed."
Dünhaupt added: "Everyone is under pressure to reduce the costs in the whole process of getting from A to B – the ground product needs to be more efficient but at a reduced cost – there is still potential to do that on the ground."
Inevitably, the cost saving potential is far greater for airlines encouraging passengers to check-in themselves – either from home, or at a self-service kiosk. It is a further sign that the industry will continue the trend in response to passenger demand for a breeze-through experience. "You can reduce check-in activity for passengers who still want to fly without hand luggage. Some want everything on their mobile – for them it's more important to have the fast access," said Dünhaupt.