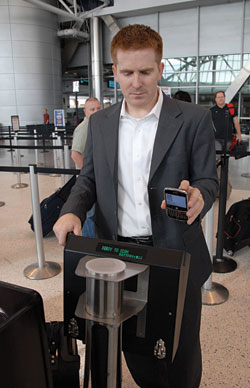 Continental Airlines became the first US carrier to partner with the Transportation Security Administration (TSA) to implement mobile phone boarding technology back in 2007 and since then the airline has established itself as a leader in the field.
"Our goal is to focus on the customer experience and to make sure that we're providing initiatives and techniques to improve and streamline the customer experience," said Jared Miller, now Managing Director – Self Service & Emerging Technology, United Airlines, following the recent merger of United Airlines and Continental Airlines.
The carrier's mobile capabilities allow for the passenger to check-in online and they can then choose to receive their boarding pass directly to their mobile device. In 2010, Continental became the first airline to offer this service on flights between the US and UK.
"An email is sent to an email address that the passenger provides and which can be opened on mobile phones and this includes a link to their unique boarding pass," Miller explained.
"The benefits vary by passenger depending on what they want to use it for. The time savings are great and you don't have to worry about losing your boarding pass either. As long as you've got your mobile phone and your identification, you have everything you need to fly."
British Airways also offers Executive Club members the opportunity to have their boarding pass sent to their mobile phone and while this is already available on all but one domestic UK routes, it is now being rolled out across the entire short-haul network.
Andrew Newman, Manager BA.com and Mobile, said: "It's very significant for our customers but we're not taking away any other check-in or boarding options so it's just about giving our customers more choice."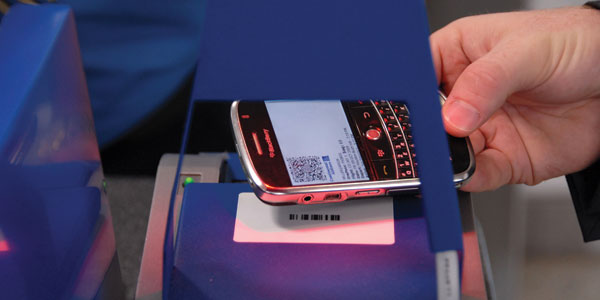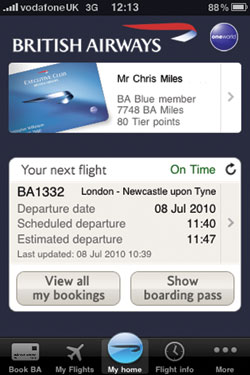 Mobile apps
The mobile technology offered by both Continental and British Airways is not just limited to boarding passes and both have developed comprehensive 'apps' that can be downloaded to smartphones.
In addition to incorporating the mobile boarding pass, the BA app, which is available on iPhone, BlackBerry and Android devices, also allows users to view flight information, timetables up to a year in advance and also links to the BA Twitter page.
Similarly, the Continental application, available for iPhone and Android users, also offers innovative facets such as Enhanced Flight Information – ranging from flight status details to information on the in-flight entertainment that will be available – and interactive Airport Smart Maps.
Miller said: "The possibilities are far-reaching and this is not just a novelty, it's very significant for providing a superior and efficient customer service."
As an increasing number of airlines, particularly across Europe and the US, continue to develop and release apps for mobile devices, questions have been raised over the limitations due to the fact that they rely on the passenger to own a smartphone. However, while BA's Newman explained that "most of our regional fliers and Executive Club members are already using smartphones", Continental's mobile boarding pass does not in fact require the user to own a smartphone and can be utilised by anyone with a web-enabled mobile phone.
Miller added: "We are seeing very rapid growth of mobile technologies and that's only facilitated even more as additional airlines develop the same capabilities and help to educate the travellers as a whole. Our goal is not to be at the forefront of technology and innovation, though. It's to provide our customers and passengers with a leading air travel experience."